If you're visiting Brittany in the French Northwest for a few days, you may be wondering whether to choose Saint Malo or Dinan as a base camp.
St Malo is a seaside resort with stunning ramparts and sea promenade and impressive tides that let you walk to the islets. It is a lively city with many tourist attractions. Dinan is quieter but well-known for its nice medieval core, cobblestone streets, and half-timbered houses.
Saint Malo is a port city on the English channel, while Dinan is a small town and river port about 18 miles inland South of the coast. Saint Malo has about 45.000 residents, about 3 times more than Dinan.
Saint Malo Or Dinan: what Travelers Say
Saint-Malo and Dinan are both beautiful cities worth seeing. Dinan, a city along the river, is a quieter choice with a charming Medieval atmosphere. If you'd prefer a coastal city with livelier nightlife, Saint-Malo is the better choice.  
Both Saint-Malo and Dinan have ports making the cities a great base for exploring the area of Brittany. Both cities are great choices for traveling Brittany and the Normandy Regions. Dinard, Bayeux or Dol-de-Bretagne are not far to travel to next. 
Staying 3 to 4 nights is enough time to explore the history, Mont St Michel, and the Brittany coast.
The countryside city of Dinan has an interesting historic center and a famous weekly market. Many people prefer Dinan for its central location. The city center has memorable Medieval architecture that travelers find charming.
Saint-Malo is a seaside resort feeling and many activities. With beautiful beaches, travelers can go sea swimming and walk along the shore. Dinan, on the other hand, is a river port.  
Some people like to spend a brief visit in Saint-Malo for the nightlife and tourist attractions. Saint-Malo is bigger than Dinan but can be crowded with tourists. 
Those who prefer a calmer city find Dinan full of character with a Medieval quaintness, although there isn't as much to do.Saint Malo is livelier and more interesting, some people wish they'd stayed in St Malo instead.
The larger city of Saint-Malo is right outside Mont Saint Michel and can be experienced in a few hours. After dinner, you can walk around the famous ramparts.  
Travelers often recommend spending 3 nights in Saint-Malo and one night in Dinan. Or, go to Dinan for a day trip. If you had three weeks in the Brittany area. Spend one week in Dinan, one week in Saint Malo, and one week further west.
Saint Malo Or Dinan: access & Transport
Both Saint Malo and Dinan give you easy access to many places around the area. It is easy and convenient to get around to other parts of Brittany using either Saint Malo or Dinan as a base.
Saint Malo offers access to many different types of transportation options. There is a ferry to Jersey and trains to lots of different destinations.
From Saint Malo you can take a boat to Dinard (10 mins across the river) or to Dinan, though only part of the year – you can always take the bus from the train station the rest of the time.
Parking is limited in Saint Malo. There's no parking near a hotel or the peninsula, which makes day trips longer. Travelers have to park far away from the reconstructed historical core.
A shuttle bus transports visitors from the parking to inside the St Malo rampart. Arriving early, before 9 am, will give you more of a chance to park closer to the city wall. If you go mid-day you will walk long distances from the more remote car parks.
Traffic can be very difficult to navigate while driving around Saint Malo, though it depends on time of year. In the high season, the large number of tourists can make driving a real headache.
Dinan is a quieter town so there is plenty of parking, adjoining the town. The traffic is much easier and you can travel in and out at any time of the day.
Saint Malo Or Dinan: vibe & People
In both Saint Malo and Dinan, the vibe changes with the season . Both cities are tourist-driven so some businesses only open on weekends in the low season.
Saint Malo is a larger city which remains busy throughout the year. Many tourists are attracted to its famous walled city.
Some travelers feel Dinan feels more like a tourist trap and tend to prefer Saint Malo.
Saint Malo
Saint Malo is great for exploring the coast and having good food. It's a lively provincial French town much larger than Dinan. In the intramuros there's many amenities and more to do.
In WWII Saint Malo was bombed to the point where it was almost completely wiped off the map. However, it has been rebuilt and the citadel port look is still very impressive. In Saint Malo you feel the weight of history.
The inner city can be very tourist-orientated with restaurants, gift shops, and hotels. Note that some visitors find the dark stone not so romantic.
Saint Malo is composed of a few different parts. The Grande Plage area is a sea resort, while the old city center has a great atmosphere for tourists to roam around historical places.
The ramparts offer beautiful views with an array of good restaurants.
There are many things to do in Saint Malo. You can walk along the walls, admire the sea, or go shopping. At night, the city lights up with a vibrant street life. Have ice cream, listen to music, watch the action.
Dinan
Dinan is a little picturesque town with a beautiful Medieval center. There are great views of the little harbor port as well as the old town. Both of these attractions are 10 minute walk from each other.
Dinan is better for a quieter holiday. Staying near the Port du Dinan is especially quiet. It has less of a tourist feel than Saint Malo and Dinard. The town feels like more of a place people live.
The gorgeous town of Dinan is well worth a day of your time. The upper town is beautiful while the river part is still very nice.
If you cycle or walk down the riverside, you will see half-timbered houses. Walk down Rue Jezebal in the early morning or evening. Explore the old center, and the newer port area or visit the street market.
Saint Malo Or Dinan: sights & Culture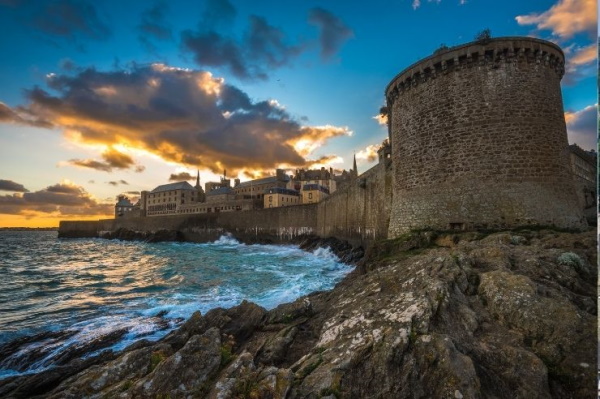 Saint Malo
Saint Malo is right on the sea so visitors can watch the amazing tides, which shift a lot allowing visitors the opportunity to walk out to the offshore land. Tides come very fast, it's quite a sight to see. The walks out during low tide are memorable.
At low tide, you can hike out to the islets to a smallish beach and walk along the wall.
A big sight to see in Saint Malo is the ramparts of tall granite that surrounds the old town. Walking them takes about 2 hours and gives you a view over the city and the huge tides coming in and out.
The restaurants are close, tourists can take a break and eat a meal or snacks. This sight can be taken in without too many crowds.
One of the highlights is the fascinating public swimming pool on the beach that gets completely covered when it's high tide – only the diving board stays visible.
There is lots of history in Saint Malo. You can tour the sights of Saint Malo on a tour train. The cathedral is in the center of the old town, built in Romanesque and Gothic styles.
Visitors can go to the La Demeure du Corsaire, an 18th-century house and museum owned by a privateer (pirate). The Museum of St Malo in City Hall is worth a visit.
There are many walks and hikes in and around Saint Malo, A fun and largely tourist-free walk is to the St. Servan and its beautiful medieval tower.
Outside the city wall are some more sights such as the 39-45 Bunker Memorial. Just south of the city is a free entry tidal barrage worth seeing – it takes about half an hour.
Dinan
One day in Dinan is enough to walk around and take in the sights of this small town. On Thursday's there is a market "Les Halles" that shouldn't be missed.
Dinan has a lot of Medieval history to see. Dinan Castle was built in the 14th century and Tour du Coëtquen is a 15th-century artillery tower.
Another historical sight is the Gothic-styled Saint-Malo Church in Dinan, which offers panoramic views from the Clock Tower.
You can take the tourist tour train to visit sights and places such as the Rail Museum. It has posters, signal boxes, and model railways.
Saint Malo Or Dinan: food & nightlife
Saint Malo
Saint Malo has excellent dining with very busy restaurants. Reserve ahead because the tiny independent restaurants fill up fast both on and off season. Restaurants on the landside wall, however, aren't as good – food can be mediocre.
Highly recommended restaurants include the Brasserie du Lion d'Or and Restaurant Le Cairn. During the day there are many cafes such as Tam's Kaffe.
The nightlife in Saint Malo has many bars and clubs with different atmospheres. L'Alchimiste and La Fabrique are high-end bars to visit.
Dinan
Dinan becomes very quiet when the day-trippers leave. At night time there are still enough restaurants for a variety of choices. Canterbury is an often-recommended restaurant.
During the day, follow the cobbled lane into town, there are cafes and restaurants along the Rance. Try Creperie Ahna for lunch with daily specials.
Saint Malo Or Dinan: where to stay
Saint Malo
Saint Malo is a charming town. Staying inside the old city wall is a unique experience so look for hotels within the walls. One nice thing about staying in Saint Malo is that you get to visit the 3 islets.
Saint Malo has highly recommended hotels such as the "France et Chateaubriand".
Hotel Oceania is also well regarded. It is beachfront with a nice breakfast. Although it's just outside city walls, you can enjoy a great view during breakfast.
Travelers also recommend Hotel Beaufort for its seaview room and fantastic balcony. It's only a short walk away to the old walls..
The Hotel Elizabeth is another good option travelers mention, it is English-friendly and run by helpful owners.
The Creperie/hotel "L'Artimon" is another recommended place for its friendly owners who have a great collection of Quimper faience.
Le P'tits Bois campsite is a 15 minute walk from Moulin bus stop, 20-25 minutes from Saint Malo. The traffic free footpath is close to a supermarket with fresh bread and cheese. The bus ride to Saint-Malo only costs 1.30€.
Dinan
One of the most recommended places to stay in Dinan is Hotel La D'Avaugour. It doesn't have parking but there's free city parking nearby.
A charming and characterful stay is Le Logis du Jerzual, a B&B with great breakfast and friendly owners. Only stay here if you're not afraid to walk though as it's on a steep hill.
On the edge of the town center is Hôtel du Château, which is an easy drive with parking. It is close to Tourist Information and Le St. Louis restaurant is very close.
An affordable place travelers often recommend is Hotel Arvor Dinan. It's central with free parking. The hotel is comfortable and clean but has nothing special otherwise.
If you have a car, some travelers suggest staying outside of either Saint Malo or Dinan to avoid the commercial vibe. Farther West, Brittany has many old places to stay.
Saint Malo Or Dinan: day trips
There are many other enjoyable towns in the area such as Dinard (across the river from Saint Malo), Rennes (larger city), Vitre and Fougeres.
From Saint Malo
From Saint Malo you can visit Cancale. A great food stop with seafood, oysters and mussel farming. The seafront has restaurants, bars, and stalls overlooking Baie Mont Saint Michel. Cancale isn't too touristy. Aside from restaurants there's not much to see..
Mont Saint Michel is a unique medieval site, although many travelers consider it a tourist trap. The Abbey, streets and ramparts are picturesque. Travelers recommend going at sunset time and in the early morning before the crowds.
Dinard is across the river from Saint Malo and has a laid back 19th century elegance. It has historic mansions overlooking oceans. You can have lunch and walk the promenade.
From Dinan
Bayeux is very popular for D-Day tours. It's a pretty town that was preserved from the war, unlike others in the area. Its central location makes it an ideal base for many D-Day tour operators. Bayeux' Cathedral and tapestry are also points of interest.
If you are traveling Brittany for 3 weeks, take at least a week to Brest or Qumper in the western part of Brittany.