Travelers to Morocco are often torn between staying in Agadir or Marrakech. Which one offers a better vibe, beach, nightlife, sightseeing, shopping?
Short answer: they are two very different cities! Agadir is a beach resort city great for relaxing in a mellow and relaxed atmosphere, surrounded by modern buildings and comfortable hotels. Agadir is warmer than Marrakech in the winter and has 300 days of sunshine per year.
Marrakech, on the other hand, is a larger, hustle-and-bustle city with lots of Arab history and culture, beautiful traditional houses (riads), palm trees (it's in an oasis), and luxury accommodations with traditional charm. It gets extremely hot in the summer and quite cold and rainy in the winter.
Agadir or Marrakech: what travelers say
Agadir has a long seafront with palm tree-lined boulevards, a large sandy beach, modern buildings, beachfront bars, and a laid-back European resort feel. Marrakech is a larger city inland with lots of historical and architectural landmarks and a very traditional Moroccan feel
Both Agadir and Marrakech get large numbers of tourists year-round. Agadir offers great beaches and Western-like resort facilities, whereas Marrakech has strong Moroccan character, with an extensive chic and luxury tourism offering.
The tidy and modern tourist area in Agadir is where most of the hotels, resorts, and restaurants are concentrated. You can walk to the beach, along the promenade, and to most attractions in the area without a need for a taxi. Marrakech is much larger and spread out with sights all over town, so transportation is needed to get around the city.
Marrakech has many traditional sights and places including the large and animated Jamaa Lfna souk (traditional street market) and many interesting cultural and historical sites. Agadir, on the other hand, due to being completely destroyed by a large earthquake in the 60s, has very few cultural sights – mainly a local market and a rebuilt kasbah fortress on a hill.
Travelers often suggest spending no more than 4 days in Marrakech the first time due to the intense experience, then going to Agadir or Essaouira for a few days to relax. Once you get used to the Marrakech atmosphere, however, you may decide to spend more time there for future stays.
You'll find lively nightlife in both Agadir and Marrakech, though Marrakech has more high-end and luxury options. Most of the nightlife in Agadir takes place in the bars and hotels of the tourist area. Pubs and clubs are quite expensive in both cities, as is alcohol in general in Morocco. Don't expect the same type of nightlife as you would in Europe, though (see Food & Nightlife below).
Agadir or Marrakech: access & transportation
Traveling from Marrakech to Agadir or vice-versa is relatively easy thanks to the recent motorway which has cut the trip duration down from 5 to 2-3 hours. You can take the bus (slower and more tiresome) or a Grand Taxi, which is faster. These inter-city taxis don't have meters so you have to ask for the price ahead of time – or negotiate it.
Within Marrakech or Agadir, you can get around town using Petit Taxis (smaller urban cabs). Unlike Grand Taxis, these do have meters they are supposed to use. Be wary of drivers who try to cheat tourists by omitting to reset or turn on the meter, taking longer routes, etc.
From Europe, there are travel packages tours which combine Marrakech for a few days and Agadir for a few more, arriving in one and leaving from the other, so you can have the best of both worlds.
In Marrakech, if your hotel is located in the old town, ask them to arrange for your transfer from the airport, if possible with a porter who will carry your luggage through the narrow pedestrian streets.
Agadir or Marrakech: vibe & people
For many travelers, Marrakech is great destination, but visiting the traditional city areas is an intense, sometimes tiresome experience for tourists. All your senses are tested, and you may see some things you won't like as much. Many visitors, however, say you should at least go once in your lifetime, while others have mixed feelings about the city. People either love it or hate it. Four nights is generally considered a good duration for a first stay.
When you see the city for the first time, the first thing what will strike you is the uniform tan/ocher color of the buildings. Aside from the traditional sites where most of the animation (and hassle) takes place during the day, Marrakech has a broad range of luxury places, including high-end (and often expensive) boutique hotels and bed & breakfasts and luxury stores.
The city also has several international cultural and sports events, such as a renowned film festival and car race, which attract top European artists and jet setters.
Agadir is much more mellow and peaceful – some say bland – compared to Marrakech. If you go in the winter, you'll often find a warm sun and beach atmosphere while Marrakech will be cold and damp. However, Agadir has thick sea mist most mornings, though it often clears up around noon. Certain weeks, the weather in Agadir can get cloudy and windy.
The earthquake that destroyed Agadir and its population in 1963 essentially flattened the city. The "old" town was rebuilt but the ruins can still be seen in the hills – you can take a camel ride there.
Agadir offers a peaceful seaside environment to chill out, take a walk along the beach promenade, visit small shops, have a coffee or ice cream etc. Many tourists choose to stay in a resort for convenience and comfort.
Some tourists are a bit put off by the locals frequently staring at them and sometimes asking for money. Some visitors also feel the beach and water could be cleaner, although this varies with the season.
Travelers generally feel safe in both Agadir and Marrakech. There is some degree of hassle, however, mostly in the markets and streets of Marrakech, with people constantly offering you products or paid help for everything. Fake guides and horse cart drivers are among the most common tourist hasslers in Marrakech. You can easily stay away from them if you choose to, however.
Also, bartering for everything in shops is common in Morocco, which some visitors can find wearing and frustrating. Bartering tends to be less hardcore in Agadir than in Marrakech.
For these reasons, travelers often suggest going to Agadir to relax and rest after spending a few days of visiting Marrakech.
Overall, it's worth noting that travelers, especially women, typically feel more comfortable and less threatened in Morocco than in Egypt or Turkey.
Agadir or Marrakech: sights & culture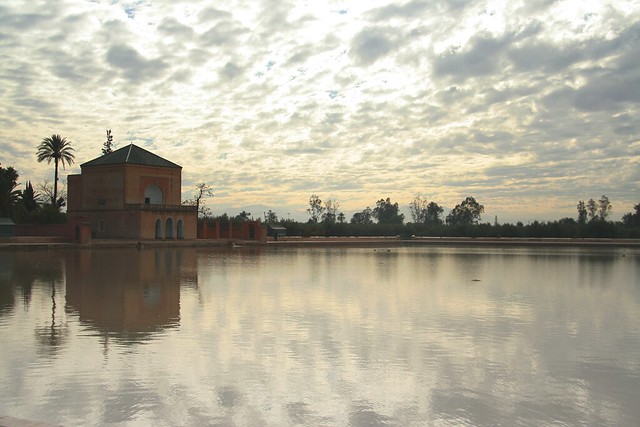 When it comes to cultural sights, Marrakech is the clear winner vs Agadir. It has a lot of unique attractions to offer visitors, such as a camel market, snake charmers, traditional water sellers, street acrobats, or traditional Moroccan street food delights. Marrakech is an instant journey into the past and North African culture.
The main square of Jemaa El Fna is where a lot of that traditional animation takes place. Keep in mind that you're expected to pay if you take photos of people or animals there. You can also sit at one of the rooftop restaurants around the square to watch the animation from a distance.
Aside from the square, Marrakech has some beautiful historical monuments in the Muslim tradition. The Koutoubia is the city's main mosque with a 250 feet tower, but other examples of beautiful Muslim architecture are found in the mosques of the Kasbah, Ben Youssef, Bab Doukkal, and Mouassine, as well as in several synagogues. Be aware non-Muslims are not allowed inside the mosques though.
Other key historical sights include the Royal Palace of Marrakech and the 18th century El Bahia Palace. The 10th century Dar Si Said palace and museum displays collections of former rulers of Morocco. The Tiskiwine Museum has a collection of traditional Moroccan clothing and jewelry, and the Museum of Marrakech exhibits oriental art and historical artifacts.
There are also beautiful gardens and tombs/mausoleums you can visit, e.g. through organized tours of the old city (hassle-free). You can also get a horse and buggy (be sure to agree on the price before starting) or catch the tourist bus for touring the modern part of Marrakech.
Marrakech has many organized and informal music performances. The National Festival of Popular Arts (North African music) takes place in the Jemaa el Fna square. Music of mixed Arab, Beber, African and Spanish origins is often played spontaneously on the streets.
As mentioned, Agadir is more modern (having been rebuilt) and has fewer sights than Marrakech. The 9 km-long beach promenade, however, connects the port and Kasbah – old fortress overlooking the town, now also a large cemetery dating from the earthquake – at one end to the Royal Palace at the other (not accessible to visitors).
A 3-hour guided tour of the city can take you through a visit to the local museum, the port (boat building), the Kasbah, the Souk Al Had street market (the largest in North Africa), and a stop at Agadir's main mosque – all of these are sights worth seeing.
A small tourist train also gives a tour of the Agadir Center areas and sights, including the beach and the rebuilt Medina (old town).
Agadir or Marrakech: nature & outdoors
Agadir and surroundings are famous for its world-class surfing. The beaches and points around the village of Taghazout North of Agadir are famous in the surf community around the globe for offering world-class breaks when winter swells come in. Taghazout is developed with modern and high-end resorts.
Marrakech, on the other hand, is famous for its hiking trails and mountain outdoor activities in the nearby Atlas mountains – trekking, rock climbing, rappelling, whitewater rafting, paragliding, etc.
Agadir or Marrakech: food & nightlife
In both Agadir and Marrakech, there area numerous European-style restaurants, which boast relatively high prices – similar or above European levels. At the other end of the spectrum, in both cities you can eat for cheap ($2 – $5) in popular street market stalls.
As mentioned, alcohol in Morocco is expensive, due to high taxes, so even in Agadir, you should not expect to find cheap clubs full of young tourists like in the Greek islands or Spanish resorts.
In Agadir, most bars and restaurants are within walking distance from hotels, while in Marrakech a car is usually required for going out. Many hotels, however, offer in-house entertainment.
Marrakech has many trendy bars and restaurants, many of which are located in the Medina (old town), the Gueliz district, and the Hivernage area. Trendy and upscale bars include the 555 Famous Club (jet setters), La Perle Skybar rooftop (Mamounia Hotel), the Pacha, the So Lounge (Sofitel), the Theatro (expensive club).
Hip bars and pubs include the Kosy bar, a cool rooftop bar; The Café du Livre, a nice chillout café and restaurant combined with a bookstore; The Café Clock in the Kasbah, which has great live performances (no alcohol). Marrakech also has a broad choice of upscale and luxury restaurants.
Agadir also has a wide choice of restaurants, many of which are found in the tourist area, including on Boulevard du 20 Aout close to the beachfront hotels. Examples include Le Jardin d'Eau, Catanzaro and La Scala – which is frequented by the King of Morocco, but closed to visitors when that happens. On the beachfront, there are many family-friendly restaurants where you can find ice cream and traditional Moroccan cuisine.
There are also many cheap places to eat in the Talborjt area where locals live, many of which offer 3-course meals for 45DH – one great such place is called Ibtissam. Bab Marrakech also has some good local restaurants. The locals also find fresh fish at the Fish Market near the port.
For nightlife in Agadir, again the beachfront is where most of the action is, which is lined with cafes, bars, and a few clubs. In the summertime, many places have live music.
"Downtown" Agadir has higher-end nightspots and sports bars with big screens. Clubs offer free or cheap admission but expensive drinks. The Factory, Actors, Papagayo, Beach Club and Flamingos are some of the popular places.
Hotels also often have nighttime animations with traditional Moroccan music and dancers. Cheaper bars in Agadir tend to be in the less touristy areas, with mostly locals hanging out there. In these you can generally get a beer for $2 – $3, vs $4 – $5 in tourist places like the English Pub. Le Maxwell, however, is a nice though relatively affordable bar.
Note that the large number of tourists in the tourist area of Agadir tends to attract many prostitutes of both sexes – also often the case in the more upscale clubs and bars of Marrakech.
Agadir or Marrakech: shopping
Marrakech has both traditional souks and fancy European stores and fashion names. Unlike in European-style stores, bartering is the standard in street souks, and you should typically start at 75% below the asked price. Bartering can be a fun and rewarding cultural and shopping experience, just be prepared to accept paying a final price that suits you.
When going walking and shopping in the Medina, make sure you wear comfortable shoes as opposed to sandals (in the summer) as the streets are cobbled and sometimes hard on the feet.
Agadir or Marrakech: lodging
Marrakech has a broad choice of hostels, hotels, and Riads in the Medina, larger B&Bs, hotels and apartments around the center, and resort-style international hotels in the posher and more modern Palmeraie area.
Staying in a riad (traditional house) in the Medina will give you a true taste of Marrakech and allow you to walk to the souks and main square, as well as to restaurants and pubs. There are riads of all types, from small local places to luxury European-run B&Bs. Riad Safa and Dar Silsila are two often recommended riads.
Travelers often recommend the Riu Tikida Palmeraie, which provides a nice break from the center hustle and bustle, and is a relatively short taxi ride from the center.
The Riu Tikida Garden, which offers all-inclusive packages, is also well-appreciated and is even slightly closer to the city center. Medina Gardens (also all-inclusive) is an often-mentioned Thomson Couples hotel which is nice for a romantic break.
In Agadir, the tourist area is relatively small with 3 main roads parallel to each other where the main hotels and tourist places are concentrated. The Riu Tikida Dunas is a very nice hotel with a great pool and good food. Travelers find the food there even better than the Tikida Garden.
Travelers also praise the 5-star Sofitel Agadir on the beachfront for its style, spa, large pool, 4 restaurants, 5 bars, and in-house entertainment.
Agadir or Marrakech: day trips
From either Marrakech (2 hours) or Agadir (1.5 hours), you can take a nice trip to Essaouira, a coastal town full of character and history with a beautiful seafront, a quality beach, and a lively and friendly old medina. There are many buses going there from both cities – check out the pleasant Supratour bus line. See my other post about Essaouira vs Agadir.
Agadir is a good base for exploring the Souss Valley and Taroudant – you can get there by Grand Taxi (affordable intercity taxi). If you have a bit of time, you can easily visit the pretty coastal and mountain towns of Tifnit, Tiznit, Mirleft, Sidi Ifni, Legzira Beach, Taghazout, and Tafraoute. There are far fewer tourists around there than in Marrakech. You can also visit the Vallée des Oiseaux, a bird and wildlife sanctuary, as well as several other nature parks in the region.
From Marrakech (or even from Agadir), you can take a trip to the Sahara desert where you can go ride a camel with bedouins and spend a night in a tent. Marrakech is also close to the Ourika valley, an entry point into the Atlas mountains, with scenic mountain villages and waterfalls – you can hire a local guide. You can even go skiing in the Atlas in the winter.
***
Photo credits:
(1) Featured: "Morocco CMS CC-BY" (Public Domain) by Carlos ZGZ
(2) "20150305_143203" (CC BY-SA 2.0) by jhoneyball
(3) "Marrakech" (CC BY 2.0) by Maria VD
(3b) "20150305_143540" (CC BY-SA 2.0) by jhoneyball
(4) "Marrakech, Morocco" (CC BY 2.0) by frankdouwes
(5) "El Badi Palace Orange Grove" (CC BY 2.0) by carolineCCB
(6) "Airfare Deal – Frankfurt (FRA) to Agadir" (CC BY 2.0) by mighty.travels
(7) "20150305_140740" (CC BY-SA 2.0) by jhoneyball
(8) "Marrakech 2007" (CC BY 2.0) by NBroekzitter86