If you're traveling in France, you may plan to spend 1 or 2 days in the Southwest region. Time-constrained travelers often have a tough time choosing between Toulouse or Bordeaux for a short stay. In this post, I try to give you key information on these two French cities so you can choose which is best for your tastes.
Toulouse vs Bordeaux: the short answer
Toulouse and Bordeaux are both "Sud-Ouest" cities, referring to their situation in the Southwest region of France, which implies some climate, lifestyle, and cultural similarities. Also, while Toulouse city has a population twice the size of Bordeaux (500K inhabitants vs 250K), the two larger metropolitan areas have a similar size.
For these reasons, people generally agree Toulouse and Bordeaux are quite comparable in terms of visiting experience. However, they do have very distinctive styles and feels. Bordeaux feels more glittery and aristocratic (some say pretentious), whereas Toulouse feels more authentic, closer to its countryside roots, and modern at the same time.
Bordeaux is famous for its wine industry, while Toulouse shines through its booming aeronautics and technology industries and services. The people in Bordeaux are often perceived as a bit cold and arrogant, while Toulouse's more cosmopolitan population often feels friendlier and more open-minded.
Both Bordeaux and Toulouse are beautiful cities with lots of sights and culture. Both have great backcountry. Bordeaux has a stunning ocean coastline, while Toulouse is relatively close to the Pyrennées Mountains and the Mediterranean.
Toulouse or Bordeaux: access & transportation
Toulouse is landlocked and somewhat remote for Europeans. Luckily, it has good air connections with most EU cities through its busy international airport. By train, Marseille is 4 hours away and Barcelona 3.5 hours. Due to its location, though, traveling between Toulouse and other French cities is sometimes a bit of a journey.
Bordeaux is very well-connected by the Atlantic high-speed train line (TGV in French), being only 2 hours away from Paris and 3.5 hours from Madrid. Toulouse and Bordeaux are about 3 hours apart by car or train.
Toulouse or Bordeaux: vibe & people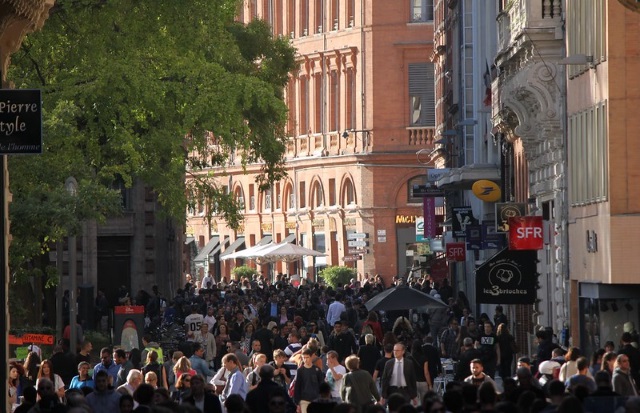 Both Toulouse and Bordeaux are student cities – university students make up 10% of Toulouse's and 25% of Bordeaux's population.
Bordeaux is a beautiful city (see the Sights section) but has a more classic and bourgeois mentality. People in Toulouse are generally warmer and there's a more Latin and lively mentality there.
Toulouse is also a very dynamic city due to its young and highly educated population working in the city's vibrant space and aviation, software, and medical sciences industries. Toulouse is growing fast and has an increasingly cosmopolitan mix of people with 20.000 newcomers every year. As a result, travelers tend to find the Toulousains warm, fun and welcoming.
Bordeaux is lagging behind in terms of population growth and international influx. The city has a more bourgeois, opulent feel, which typically impresses the traveler. People in Bordeaux, however, are quite traditional and are often seen as distant, snobbish, and unpleasant to foreigners.
Toulouse vs Bordeaux sights & culture
Bordeaux is often referred to as "the small Paris" due to its impressive classic architectural style. Toulouse also has a lot of historical and architectural sights but otherwise has more of a "countryside" feel. Both cities have a rich cultural life, musical scenes, and theaters.
Toulouse is often dubbed "Pink City" due to the color of many of its older buildings, mansions, churches. A remarkable architecture, pink bricks, and beautiful Garonne river waterfront all combine to give Toulouse its charm.
Although Toulouse is a historic city, you can generally visit most of its sights in a day. The city center is beautiful and steeped in history and looks beautiful at night, with monuments like the Basilica Saint-Sernin nicely lit up. Toulouse offers very nice walks along the bank of the river with cafés and restaurants all around.
Bordeaux is generally considered more walkable than Toulouse. It has impressive and beautiful medieval buildings everywhere, the most prominent of which have been renovated in the last 15 years. The city has earned UNESCO world heritage site status. You can easily spend 3 full days visiting the museums, monuments, as well as parks, riverfront, etc.
Some parts of Bordeaux display Haussmanian architecture, reminiscent of Paris, with broad and elegant avenues and façades. The elegant city center is covered with cut and carved stone. Bordeaux sparkles, and its center is a harmonious blend of old and new.
In Toulouse, the blend between historic and modern is not always as harmonious, with high-rise modern buildings sometimes overshadowing lower, older pink historic buildings near the river. Toulouse doesn't have as many grand plazas. aside from Place du Capitole, or huge monuments as Bordeaux. However, it does have a sweet vibe that can feel a bit like Italy.
Things to do in Bordeaux include walking or cycling along the elegant new riverfront ("les quais"), take a tour of the Opera House, stroll up and down Rue Sainte-Catherine, the longest pedestrian street in France. The no-car area around Sainte-Catherine and Place Camille Jullian is full of lively restaurants and small shops.
Bordeaux is also a world-famous wine city, offering lots of wine tours as well as châteaux visits in the area. In Toulouse, you can experience the distinctive Occitan culture, in which rugby plays an important role. Toulouse also has some original attractions, such as touring Airbus' production facilities where huge aircraft like the A380 are assembled.
Toulouse vs Bordeaux: nature & outdoors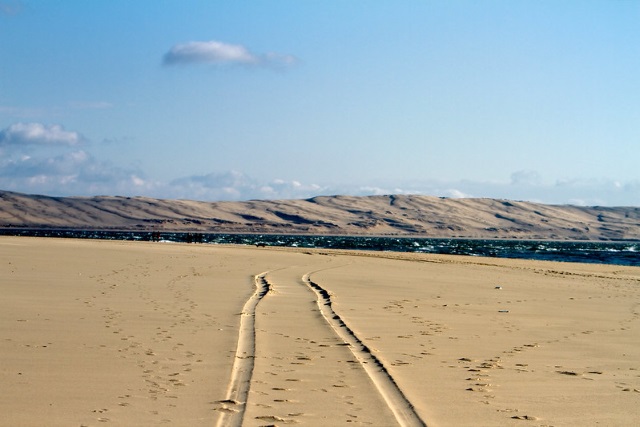 Bordeaux offers quick access to fantastic beaches of the Atlantique Ocean with the nearby great Bassin d'Arcachon lagoon (about an hour away by train) which has the highest sand dune in Europe, the Pyla dune. The "Les Landes" protected natural area and its world-famous surf beaches are also nearby (< 1 hour).
Toulouse, on the other hand, has easy access to the countryside. You can also go hiking in the Pyrenees Mountains or diving in the Mediterranean in 90 – 100 minutes by car.
Inside the Toulouse metro area, "Toulouse plage" is a huge beach-like space by the river with numerous free outdoors and sports activities such as tennis, volleyball, beach football, board games, etc. You can also take a nice bike ride or stroll along the Canal du Midi right in the middle of the city. The city center is mostly pedestrianized and the city is cyle-friendly.
Note that the weather tends to be warmer and dryer year-round in Toulouse than in Bordeaux.
Toulouse or Bordeaux: food & nightlife
Bordeaux gives you access to the great Bordeaux wine culture, including the famous Medoc and Saint-Emilion wines, with numerous wine tasting and gastronomic options. Toulouse, on the other hand, has a more rustic and traditional type of French cuisine, with things like the "cassoulet" (bean stew), the "saucisse de Toulouse" (sausage), the Occitan foie gras (goose liver), or duck confit.
Bordeaux and Toulouse both have a plethora of good restaurants and places to have a drink, ranging from sophisticated to traditional to relaxed. In Toulouse, Chez Tonton on the riverfront (relaxed sports bar) and Fat Cat near place du Capitole (small art deco piano bar) are two great places to hang out for a drink.
In Bordeaux, the best nightlife is usually found in the back streets around the animated pedestrian center. The Maison du Vin is a great wine tasting place that looks like a giant boot on the other side of the river – you can take the tramway there. There are a lot of great restaurants for all tastes, e.g. excellent seafood at the bistro Chez Jean-Mi in the iconic Marché des Capucins area.
Toulouse or Bordeaux: lodging
Prices are generally slightly higher in Bordeaux than in Toulouse. In Bordeaux, most hotels are located in the following areas:
The Golden Triangle: the shopping area near the city center and the Opera House
The old historical quarter
The Saint-Jean train station area
The Du Lac area near the convention center
The Merignac area close to the airport
The Chartrons district
The best area to stay in Bordeaux is no doubt the city center area which is close to the popular tourist attractions, the Golden Triangle shopping area, the numerous hotels, and the lively nightlife. The center is also a short walk from the river.
A usually cheaper alternative is the Gare Saint-Jean train station area which has a broad range of hotels, bars, and restaurants. It's a convenient location as it's close to the city center.
In Toulouse, the best areas to stay are the city center (around Place du Capitole), the Carmes district (peaceful but lively, close to the Garonne), or the Saint Cyprien district (mostly homestays).
Toulouse or Bordeaux: day trips
Whether you choose Toulouse or Bordeaux also depends on what you'd like to do for a day trip. From Toulouse, you can go skiing or shopping in Andorra – you're about 1 hour away by train from ski resorts. From Bordeaux, you can catch a train to Arcachon, the Dune du Pylat, and Cap Ferret on the Atlantic coast, or drive down to the beautiful Basque Country.
From Toulouse, you can have a fabulous day trip to Albi to see the Cathedral and the Toulouse-Lautrec museum. You can also visit Carcassone which has a gorgeous medieval fortress recently renovated.
From Bordeaux, you can visit the famous Bordeaux and St-Médoc wine country. You can visit the adorable (but touristy) town of St Emilion and its medieval scenery and great wine. Other day trips include Mont de Marsan, Agen, Libourne, Pauillac, Blaye, or Plassac (Roman site). Bordeaux is also a good base for visiting the Loire Valley and its châteaux.
Final words
So as you can see, Bordeaux and Toulouse each have their own appeal. Bordeaux is classic, monumental, bourgeois, and touristic. It's close to beautiful wine country, the Loire Valley, and the Atlantic coast. Toulouse is not as touristic but still has a great historical city center. It has a warm and welcoming Southern atmosphere with lots of places to go for a meal or drink. It also offer easy access to the ski resorts in the Pyrennées mountains.
***
Photo credits:
(1) Featured: "Le vert et le rose" (CC BY 2.0) by Pistolero31
(2) "Bordeaux, France" (CC BY-SA 2.0) by www.traveljunction.com
(3) "Toulouse" (CC BY 2.0) by Pistolero31
(4) "Bordeaux at Night" (CC BY-SA 2.0) by allisonmeier
(5) "Capitole de Toulouse et la rue de Rémus" (CC BY-SA 2.0) by Pierre-Selim
(6) "La route de la dune" (CC BY 2.0) by equinoxefr
(7) "La place Saint Georges" (CC BY 2.0) by Pistolero31
(8) "Bordeaux" (CC BY 2.0) by stas_r
(9) "Chateau Pichon-Longueville Baron" (CC BY 2.0) by BillBl