If you're planning a trip around Naples and the Amalfi Coast, which of Sorrento or Positano should you choose as a base for a short stay, e.g. 3 or 4 nights?
Sorrento is a town of 16K while Positano is a small village of 4k. Sorrento and Positano are only 50-minute apart by bus or ferry, but Positano is on the Amalfi Coast (western end) while Sorrento is close to Naples, Pompei, and other major sights. Sorrento is most convenient for logistics and has more to do. Positano, on the other hand, is more quaint and picturesque with unforgettable views and better beaches – although much steeper for walking around.
Positano has quaint eateries and good restaurants, and offers a very relaxing and romantic setting within easy reach of other Amalfi Coast villages. Sorrento is not as beautiful as Positano, but is more convenient and has more to offer in terms of hotels, bars and restaurants, and lodging.
Sorrento and Positano are equally popular and packed with visitors in summer. Sorrento is somewhat less expensive than Positano.
See also:
Sorrento or Capri for three or four days?
Sorrento Or Salerno: which To Choose For 3-5 Days?
Sorrento Or Naples: Which One To Choose For A Short Stay?
Sorrento or Positano: what travelers say
Positano has been described as the most picturesque village on the Amalfi Coast. The tiny village offers unsurpassed views of Italian old-world charm and the Amalfi Coast.
The colorful houses clinging to the cliffs create a unique ambience that is unrivalled in the world.
Compared to Positano, Sorrento is a large tourist hub. Overlooking the Bay of Naples, Sorrento is also perched on cliffs but it's not as spectacular as Positano.
Sorrento is 50 minutes' drive by SITA bus from Positano, so if you stay in Positano, keep in mind that sites in the Bay of Naples will not be as close as from Sorrento.
From Positano you can take day trips to Capri, Amalfi, Ravello, Ischia and Pompeii. You can go to Pompeii from Positano, but it's more convenient from Sorrento.
Sorrento is a good base for trips to Pompeii, Ercolano and Capri.
Some travelers find Sorrento more convenient for visiting Pompeii and Positano an ideal base for visiting villages on the Amalfi Coast.
If you stay in one of the more upmarket hotels in Sorrento you can enjoy a view of Vesuvius from your room.
Positano is a tiny village that comes into its own at night when all the day visitors have left. If you want to experience the tranquility and romance of a small Italian village, plan to stay over in Positano.
Sorrento doesn't offer much in terms of beaches. A number of hotels on the cliffs offer swimming platforms. These wooden decks can be reached via an elevator, but these options are costly.
Positano, on the other hand, offers a variety of pebble beaches. There are two beaches in the town itself; and some secluded beaches which can be reached by boat. Keep in mind that the beaches in the town se are accessible via steep steps and slopes which you'll have to face again on your way back to your hotel.
Positano will charm you but it will also exhaust you. The roads and stairs are very steep an uneven – be prepared for a lot of climbing. Sorrento has many flat areas, including the main part of town which is easy to explore on foot.
Sorrento or Positano: access & transportation
You can take a train from Rome to Sorrento. From there you can take a ferry to Positano. Take advantage of early bookings from Rome to Naples via www.trenitalia.com.
You can also take a train from Rome to Salerno and from there you can hop on a ferry to Positano.
Sorrento is an excellent transport hub. You can catch a Circumvesuviana train from Naples to Sorrento which will stop on the way at Pompeii and Herculaneum. From Sorrento, there are ferries to Capri throughout the day and you can catch one of many buses that go along the Amalfi Coast. The town offers easy connections to all the spots that tourists want to visit, including the Amalfi Coast, Capri, Naples, Pompeii, and Herculaneum.
NOTE: if you need to store your luggage before checking in or after checking out of your hotel, you can use Radical's convenient storage service locations in Sorrento or in Positano.
Sorrento has a bus that will take you from the Piazza to the harbor for about a euro.
From the Sorrento Port, you can take a hydrofoil to Capri, Ischia, and Naples and you can take a boat to Amalfi Town.
From Positano, you can catch a ferry to Capri and other villages on the Amalfi Coast. There are also two ferries between Positano and Sorrento every day. In fact, ferries stop at all towns along the coast.
The ferry service is more reliable from Sorrento than Positano as boats only dock in Positano when the seas are calm.
The ferries cost around € 20 pp each way between Sorrento and places like Capri while the SITA buses cost less.
You can still visit the Amalfi Coast from Sorrento by taking a bus. You can also consider going by car but it won't be a relaxing drive during the high season in summer and you might not be able to stop for pictures. Some tourists stay in Sorrento and use the services of a private driver to visit Pompeii, Capri, Ischia, Vesuvio, and the Amalfi Coast.
All in all, exploring the area from June through September will be a challenge. The roads are gridlocked and you'll have to wait in long lines for buses and ferries. During that time staying in Sorrento or somewhere near Salerno might be a better option than Positano.
Sorrento or Positano: vibe & people
Positano is a pretty town with a unique charm and dramatic views. It is more tranquil than Sorrento as it is somewhat removed from the main road with only one road going through the village. This means there is less traffic noise and congestion. You can explore the village on foot at your leisure provided you don't mind steep inclines and loads of uneven stairs.
Other than exploring the village on foot, visiting the shopping area and going to a restaurant there is not much to do in Positano. Sorrento, on the other hand, is a typical tourist hub with loads of accommodation options, excellent tours and plenty of bars and restaurants.
Sorrento is a larger town rather than a village, with much larger roads. The town is not as enjoyable to stroll around as Positano, however, it still has beautiful pedestrianized areas.
Whereas Sorrento is alive with tourists at night when people return to their hotels from their explorations during the day, Positano is more peaceful at night exactly because most day visitors leave the town by the end of the day. Beware though, during the day in high season the town is inundated with busloads of day visitors.
In general, the entire Amalfi Coast is incredibly crowded in summer with horrendous traffic jams that lengthen traveling time. The same goes for the Easter holidays.
In Positano, you will pay more for food and accommodation, but it is a nicer place to stay than Sorrento. On the other hand, there are travelers who prefer Sorrento precisely because it is not so upscale and has a more down-to-earth feeling.
Sorrento or Positano: activities & sights
A visit to Sorrento is synonymous with sunset views, sun-drenched piazzas, citrus groves, and shopping. One can spend hours wandering the narrow streets or taking in the daily catch on the dock. Take a stroll along the Marina Grande, a pretty fishing village of days gone by – it is a rewarding excursion with a more local feel to the rest of Sorrento.
Shopping in the historical part of town is enjoyable. You can also visit Villa Massa, the foremost producer of Sorrento Limoncello.
Positano is more laid back offering spectacular architecture, quaint streets, and magnificent views. The town invites visitors to relax but does not offer much in the way of tourist attractions.
You could spend some time on one of the pebble beaches. However, if you are after pristine beaches, Ischia would be a better choice. The water is clear and the beaches are clean and safe. There are many beachside restaurants for when you get peckish. Within easy reach from Positano, the island is also home to a wide range of spas and hot springs.
Check out some of the best tours and activities you can do in Sorrento or Positano – walking tours, foodie and wine tours, boat excursions, shopping tours, and more.
Sorrento or Positano: food & nightlife
Positano has few restaurants and shops. Travelers generally find that the Positano has good quality restaurants frequented by more sophisticated tourists. As mentioned before, many restaurants offer breathtaking views.
Sorrento has many restaurants and bars and a number of good nightclubs. The Foreigners Club is a hugely popular place to hang out. It's a great place for lunch, dinner, and dancing. Sorrento is known for its musical shows that feature traditional Neapolitan songs.
Good restaurants in Sorrento include Il Buco (highly recommended), Caruso, and Don Alfonso.
Sorrento or Positano: lodging
Visitors to Positano have recommended the following places to stay at.
⦁ Positano offers elegant accommodation, some of it expensive and others more affordable. Le Sirenuse and Covo dei Saraceni are on the high end while Villa Rosa and Villa La Tartana on the lower end of the scale.
⦁ Residence La Tavolozza is perfectly situated, reasonably priced and very welcoming.
⦁ Le Sirenuse is a beautiful old hotel with wonderful views of the water. It's centrally situated within walking distance to everything in Positano. The hotel has a spa and a pool as well as a highly recommended restaurant.
⦁ Pensione Maria Lucia is basic and reasonably priced.
⦁ Casa Caldiero offers a range of apartments and villas for rent. Renting an apartment is a good choice as it is more spacious than a hotel and you have facilities to do your own laundry.
⦁ Some travelers to Positano book a night or two at San Pietro which is within walking distance from Positano. It is expensive but has a great reputation. Bookings must be made well in advance.
Sorrento has a wider range of accommodations to choose from compared to Positano. Visitors to Sorrento often recommend the following hotels.
⦁ Hotel Eden Sorrento is in a good location and for a little extra you can have a room with a view over the water. There is also a pool.
⦁ Porto Salvo is an old monastery with simple but pleasant rooms. It's a peaceful place to relax. It is situated just outside Sorrento on the Circumvesuviana train line.
⦁ La Maison de Titty is a family-friendly B&B close to local attractions.
⦁ The town of Sant'Agnello just outside Sorrento is reasonably priced.
⦁ Hotel Caravel is 15 minutes walk from Sorrento and offers good value for money. The hotel has a courtesy bus to and from the main square. It offers a great pool and jacuzzi and has easy access to a clifftop beach. The hotel is within easy reach of all public transportation.
⦁ Hotel Desiree is on the cliffs above Sorrento and has a private beach. You can book a room with a view over the Bay of Naples.
⦁ Hotel Minerva has beautiful views of the town and Vesuvius.
⦁ La Tonnarella has a private beach.
⦁ Hotel Ambasciatori, highly recommended
Sorrento or Positano: day trips
One of the most popular outings from Sorrento is to Positano by bus. The views along the 50-minute route are simply spectacular. For another view, just as impressive, take a boat or ferry back to Sorrento. It takes another 50 minutes from Positano to the town of Amalfi.
Sorrento is a good base for day trips to Capri, Pompeii, and the Amalfi Coast. You can even take a ferry to Naples. Pompeii is 30 minutes from Sorrento on a Circumvesuviana train.
You can take one of many ferries to the Isle of Capri. Ferries leave and return throughout the day. For more information: http://www.gescab.it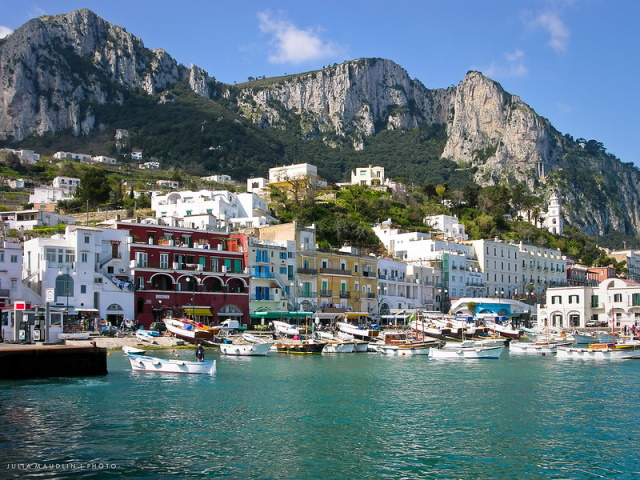 There is also a car ferry available which you can catch below the cliffs. While on Capri, try to visit Ana Capri, the other town on the island. It's at a higher elevation than the main town of Capri and is worth the visit.
Ravello is a 35-minute drive from Positano. It's one of the most charming towns on the Amalfi Coast with breathtaking views of the coastline. It's a great place to just walk around. Ravello has a number of ceramic stores that are worth a visit. Look out for Ceramiche d'Arte Carmela.
The Isle of Capri is an easy 30-minute ferry ride away and Pompeii can be reached within an hour from Positano. If you stay in Positano you can easily take day trips to Sorrento and many coastal towns on the Amalfi Coast.
Check out some great day trips you can do in Sorrento or Positano.
***
Photo credits:
(1) Featured: "Positano" (CC BY-SA 2.0) by fabsit
(2) "Sorrento" (CC BY 2.0) by photographerglen
(3) "Sorrento" (CC BY 2.0) by greger.ravik
(4) "Positano" (CC BY 2.0) by EoinGardiner
(5) "Sorrento" (CC BY 2.0) by Paul and Jill
(6) "Sorrento" (CC BY 2.0) by pululante
(7) "Positano" (CC BY 2.0) by pablocabezos
(8) "Sorrento" (CC BY-SA 2.0) by The Consortium
(9) "Positano" (CC BY 2.0) by Abdulsalam Haykal
(10) "Soaring Cliffs, Capri, Italy" (CC BY 2.0) by juliamaudlin