A lot of travelers going to Germany wonder whether they should visit Hamburg or Munich. They are two very different cities although of comparable size as Hamburg is the second-largest city in Germany with a population of around 1.8M while Munich the third largest with about 1.5M.
Munich and Hamburg sit at opposite ends of Germany. Hamburg is located in the North of the country less than 2 hours from Denmark, on the Elbe River close to where it merges into the North Sea. Munich is near the Southern border of German, about an hour's drive from Austria, on the Isar River close to the Alps mountains.
Although Hamburg is Germany's largest harbor, it's 60 km away from the North Sea (it sits further inland on the Elbe) and a similar distance from the Baltic Sea (about an hour drive). The city is dominated by the port, shipyards and shipping and trading companies.
Munich is the capital of the Southern state of Bavaria. It has a thriving automobile and high-technology industries.
Munich or Hamburg: short answer
Many people tend to favor Munich because they feel it has it all: history, technology, nature, great public transport, and a cosmopolitan population with a significant international community.
Munich has great museums (art, technical, cars), the famous English Garden scenic park, the Viktualienmarkt, a very large outdoor market, and the proximity to the Alps. It also has castles, lakes, and Bavarian food.
Hamburg also has its charm as a port city, with great seafood and day trips to the lakes and sea. It has more of a Scandinavian feel, so whether you choose Hamburg or Munich much depends on your personal taste.
Let's dig in deeper to understand what both cities have to offer and how they differ.
Munich or Hamburg: access & transportation
Munich has the second busiest airport in Germany following Frankfurt, with flights to and from a large number of European and international destinations.
Hamburg also has an international airport (the 5th busiest of the country) with many airlines and destinations. The airport is only 12km away from the Hamburg city center, while the Munich airport is almost 40km from the city.
The train between Hamburg and Munich takes about 5 hours. Both Hamburg and Munich are well connected to other German cities by fast inter-city trains, as well as to other European cities – Hamburg to Prague, Brussels, Vienna, Paris, Munich to Strasbourg, Amsterdam, Geneva, Vienna, Venice, Budapest, Zagreb, Paris, Rome, Copenhagen, etc.
Munich or Hamburg: vibe & people
A first major difference between Munich and Hamburg is the people. The people in the North of Germany (Hamburg) often have a reputation for being reserved, "grumpy" and austere. Despite such stereotypes, however, most visitors and expats in Hamburg feel the people are quite welcoming, helpful, and open-minded.
Nevertheless, getting by in Hamburg without speaking German is typically harder than in Munich where the locals are better accustomed to dealing with foreigners. Munich is considered a very open, vibrant, and sociable city.
Munich, as a city, is closer to what a visitor would expect from Germany. It has more of an Old World type of feel compared to Hamburg. When it comes to people, however, contrary to the "cold" German stereotype, the locals in Munich are welcoming, including in small villages outside the city – which commonly have festivals, hiking groups, etc.
Hamburg's lifestyle is closer to nearby Denmark – not the typical German city most international visitors expect. It's nonetheless a beautiful (at least many parts of it) and laid back city. Though it does not have a historic center per se, Hamburg boasts beautiful canals and harbor constructions.
Munich is closer to the Bavarian lifestyle – which is also distinct from other parts of Germany. The city is surrounded by rural areas and has the Alps as a backdrop. The Munich city center is beautiful with lots of old restaurants and pubs. It's always full of tourists seeking to drink good beer and eat Neuschwanstein.
Munich is generally more expensive but safer than Hamburg (very low vs relatively high crime rate by German standards). Munich has more well-paid foreign expats, while Hamburg has more low-wage immigrant workers (being a port and trade city).
Hamburg feels more like a city, while Munich is more like a big village – even though both have a similar size with 1.5-2M inhabitants. Hamburg is a bit dirtier and grittier, and sometimes seedier than Munich. Munich is referred to as "Toytown" in reference to its cleanliness, scenic views, and safety.
It's worth mentioning, though, that Hamburg is a very green city with 45% of the city being park areas. As mentioned, it's a relatively short distance from both the North Sea and the Baltic. In spite of this, however, some people don't view Hamburg as a seaside city as they feel the North and Baltic seas don't really look like real seas.
Munich or Hamburg: sights & culture
A key attraction in Munich is the BMW museum where you can see great motorcycles, historical vehicles, and concept cars with futuristic designs. See this article for some cool details.
Historically, Munich was the capital of the Kingdom of Bavaria, so it has many royal palaces to visit – in contrast with Hamburg. Munich is full of old European castles including Burghausen Castle, Neuschwanstein Castle, Nymphenburg Palace, Linderhof Palace, Munich Residenz, and Hohenschwangau Castle. See this site for more info.
In Munich, the center of the animation and sightseeing is Marienplatz. From there you can take a stroll to the English Garden park or the Olympia Park, and walk into a few beer gardens and beer halls for some Masses of Helles beers.
In Hamburg, you can take a harbor cruise, go check out the Speicherstadt, the largest warehouse district in the world with buildings standing on oak logs, or have a couple of Pilsener on the Reeperbahn or along the Alster Lakes, two artificial lakes created from the damming of the Alster River.
Sights include the Rathaus (seat of the local government) and the St Nicolai Mahnmal (Lutheran gothic revival church with a panoramic view of the city). You can walk along the Jungfernstieg (7km urban promenade on the Alster lake) or take a boat tour for stunning views.
You can visit the harbor area and take one of the public ferries from Landungsbrücken on the Elbe. Visit the old Tunnel under the Elbe and the new city area (HafenCity) by the river. Much of the city can be visited on foot if you feel like walking for miles, otherwise, you can easily use public transportation for getting around.
So while Munich has a lot of history, old buildings, and museums to offer, Hamburg has great lake and river views, boat tours, and endless promenades in addition to some nice Gothic architecture buildings.
Munich or Hamburg: nature & outdoors
Munich is a great place if you're a mountain person as the ski resorts of the nearby Alps have easy access. Hamburg, on the other hand, is a great place for sailors and boating types.
While surfing is a popular sport in Hamburg, river surfing is also common Munich in the summer months as people surf on the Eisbach river – read more here about river surfing in Munich.
Munich or Hamburg: food & nightlife
In Hamburg, seafood is very abundant due to the proximity of the sea. You can enjoy crab rolls (Krabbenbrötchen) or Matjes herrings in out of the harbor restaurants.
In Munich, you'll typically have a nice Schweinshaxn in traditional beer halls near Marienplatz – a popular Bavarian dish made of a pork shank cooked for hours served with sauerkraut. You may also have a Leberkäsesemmeln (corned beef pork and bacon) or a Brezen (pretzel).
You can catch a great brunch at Ratskeller, or at Art and Boards (Belgradestrasse) on Sundays. For a nice dinner, check out Hofbrau Munchen.
Hamburg has a lively nightlife – though some might say a bit more sleazy than Munich, which is often the case in port cities. The most famous street for going out is the Reeperbahn, including near the Paul-Roosen Straße in the North section.
There are also good bars in the Stenschanze area around Schulterblatt and Schanzenstraße. Hamburg has a wide range of pubs and bars including beer gardens, breweries, beach clubs, cocktail bars, traditional bars, wine bars, etc.
Munich or Hamburg: shopping
Both Munich and Hamburg are good shopping places, though with different styles. Munich has way fewer large malls and supermarkets than Hamburg, and most are outside of the Munich city center.
Munich has several luxury shopping streets such as the reputed Maximilianstrasse, a 1 km long stretch of luxury shops, the Theatinerstrasse, also an upmarket shopping area, Kaufingerstrasse, the city's prime pedestrian shopping zone, and Sendlinger Strasse, one of the oldest shopping streets in Munich with primarily smaller, family-owned local shops.
During the Christmas season, Munich has large and impressive street markets, often considered the best in Germany. It also has a fair number of conveniently located malls and shopping centers.
Hamburg is known for its great shopping, e.g. the Neuer Wall shopping street which has top international brands, the Colonnaden pedestrian area, the Jungfernstieg waterfront and promenade shopping area, the Spitalerstrasse shopping district (among the most visited in Germany), the upscale Mönckebergstrasse shopping street, and the Europa Passage city center shopping mall.
Munich or Hamburg: accommodation
These are a few recommendations from travelers in Munich:
Mueller Hotel near the Sendlinger Tor and Marienplatz
The Einhorn, a simple but Art Deco style hotel near the train station and shopping district
The Hotel Astoria in the pleasant Schwabing district, a small hotel with few spacious and comfortable rooms, near a U-Bahn stop and the art museums.
In Hamburg, most people choose to stay close to the city. Good areas to stay in include Altstadt, Neustadt, Saint Georg (except the areas East of the central station), HafenCity, and St Pauli which is close to the Reeperbahn bars and restaurants. Avoid staying South of the Elbe, though.
Munich or Hamburg: day trips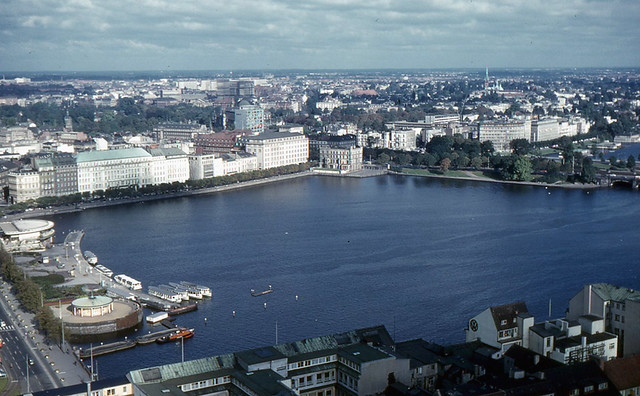 Munich is an excellent base for day trips, namely to the Bavarian Alps – Füssen, Neuschwanstein Castle, Garmisch-Partenkirchen, Mittenwald. You can also visit medieval cities like Landshut, Regensburg through day trips.
You can take a day trip to Zugspitze, Germany's highest mountain summit about 1h30 away from the city. You can also visit the Neuschwanstein castle about 2 hours away, and stop at the Starnberg Lake for a nice boat tour.
You can buy the Bayern ticket which gives you unlimited public transport travel within Bavaria for a full day.
From Hamburg, you can visit Lübeck and/or Lüneburg which both have a nice historic city center. You can also take a day trip to Denmark, the border being only 1h30 away by car or train.
***
Photo credits:
(1) Featured: "Marienplatz" (CC BY 2.0) by Nicolas Vollmer
(2) "Hamburg" (CC BY 2.0) by Carl Mikoy
(3) "Munich" (CC BY-SA 2.0) by mightyohm
(4) "München, Residenzstraße im Morgenlich" (CC BY-SA 2.0) by Polybert49
(5) "Munich" (CC BY-SA 2.0) by mightyohm
(6) "IMG_2866" (CC BY-SA 2.0) by fleno.de
(7) "Hamburg – Binnen Alster" (CC BY-SA 2.0) by roger4336