If you're traveling to Poland, like many travelers you may be wondering whether to choose Krakow or Gdansk for a few nights' stay. Krakow is in the South of Poland, near the Czech Republic border, while Gdansk is a port city all the way in the North of the country on the Baltic sea.
Krakow is famous for its well-preserved medieval core and Jewish quarter. Gdansk, formerly Danzig, the former West Prussian province capital, was mostly destroyed during World War II, but remarkably restored after the war. It's a world center for Amber trading, with amber boutiques throughout the city.
Krakow has a slightly larger population than Gdansk with 770.000 vs 600.000.
Krakow or Gdansk: short answer
Krakow is Poland's most popular tourist city due to its charming and preserved medieval old town, impressive castles, and dramatic WWII history, including the old Jewish area and the nearby Auschwitz old concentration camp.

Gdansk is less touristy and therefore somewhat more authentic. Even though much of its old town was reconstructed after the war, it's also a beautiful city with an old seaport, an attractive historic town with a massive cathedral, fortresses, and museums, and a very popular summer sea resort nearby.
Krakow or Gdansk: what travelers say
Krakow has more authentic historical and cultural sites than Gdansk as it wasn't severely wrecked during WWII, making it the tourist capital for Poland. The city also has countless hotels and budget-friendly restaurants.
Krakow is more popular with tourists than Gdansk. Gdansk is not a primary destination for Americans although cruise ships commonly stop there for day trips.
Krakow is a university town and has numerous cafes, and bars making it a more popular city for bachelor parties. On the other hand, Scandinavian tourists are drawn to Gdansk for its cheap alcohol and the many night clubs of the nearby Sopot beaches.
Gdansk is a nice-looking city, but after seeing the historical sites and museums, there are fewer things to do compared to Krakow, particularly during the winter season. Visitors generally recommend visiting Gdansk between June and October.
While Krakow and its surroundings offer more things to see and do, some travelers still prefer Gdansk to Krakow as it's less explored and is typically less of a tourist trap.
Both cities have quiet and romantic areas good for nice long walks.
The two cities are worth visiting, and travelers recommend a minimum of 3 days in each city. In Krakow, you can easily spend 3-5 days without getting bored (see Sights and Culture)
Krakow or Gdansk: access & transportation
Train is the best means of transportation for visiting either city. The most convenient way to get from Krakow Airport to the city centre is by train.
The train From Warsaw to Krakow takes about 2.5 hours, and around 3 hours from Warsaw to Gdansk.
Going from Krakow to Gdansk by train is a 5.5-hour journey that costs around $15. A faster way to go from Krakow to Gdansk is to fly with Eurolot (1.5 hours).
The cheapest way to get from Berlin to Poland is by bus – about ($25 to either Krakow or Gdansk. Some buses may take a very long time depending on the number of stops.

Krakow and Gdansk each have an airport. The Gdańsk Lech Wałęsa Airport is a 40-minute drive from the Gdansk railway station.
Krakow or Gdansk: Vibe & People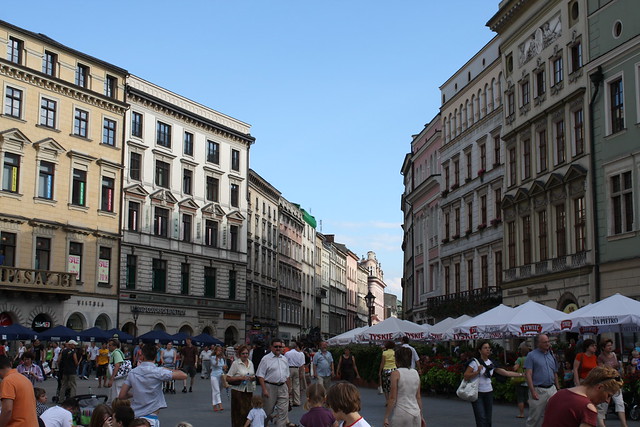 Gdansk is a port city so it has a very different vibe from Krakow. It has more of a Dutch and French look after the reconstruction. The beautiful old town, the Sopot beaches and spa, the Teutonic castle in Malbork, the Oliwia cathedral, are all major attractions.
Krakow's Kazimierz Jewish neighborhood has retained it postwar look and feel. It's now also a trendy area with synagogues, restaurants, souvenir shops, and boutiques, with a trendier and grittier vibe compared to the old town.
Local people in both Krakow and Gdansk are very friendly and eager to help regardless of cultural differences. The Polish are courteous, namely to the old, women, and children.
Krakow or Gdansk: Sights & Culture
As mentioned, Krakow escaped war destruction and survived almost intact – unlike Warsaw, for example, whose old town was completely destroyed. Gdansk also suffered significant damage and destruction by air and artillery bombardment in 1945. The old town, however, went through extensive rebuilding, including for medieval constructions.
Krakow has a culturally and historically rich center with its Rynek Glowny main square, the largest medieval market square in Europe and its fascinating archaeological underground museum, The St Mary's Basilica offers a great city view from the tower, The Town Hall tower, the impressive Cloth Hall renaissance trading center, and the majestic St Andrews Church, are also very popular tourist sights.
Other key sights in Krakow include:
The Wawel Castle, a sumptuous Gothic royal palace on a hill above the Vistula River, the Wawel Cathedral, and Wawel Castle museum featuring a large collection of European paintings and sculptures.
Florianska Street, one of Krakow's most scenic streets with medieval facades. You can walk to Florian's Gate and climb on top of the medieval walls overlooking Florianska.
Oskar Schindler's Factory Museum, Ghetto Heroes' Square
The old Jewish Cemetery at Remu'h Synagogue across the river from the old town
Around Easter time, Krakow has some nice events including Rekawka holiday, the Emaus market, and the Easter Market at the Main Market Square.
The Gdansk old town, on the other hand, is dominated by the impressive St Mary's Church, one of the world's largest brick churches. Here too, you can walk up the tower for stunning views of the city. Other major Gdansk sights include:
Mariacka Street, in the old town, with its many examples of Gdansk's medieval architecture.
The popular Long Market at the center of the old town, fully reconstructed after WWII
The Old Seaport
The Wisłoujście Fortress, the 19th-Centtury Oliwa Cathedral (16th century) and the huge10 hectare Oliwa Park
Artus Court, a 14th-century building where merchants used to meet and socialize
The fascinating World War II Museum, and the European Solidarity Center museum where you'll learn about the end of communism
The 13th-Century Golden Gate and the historic Long Lane avenue
Krakow or Gdansk: Nature & Outdoors
Krakow has the huge Planty park (4 kilometers long and 21.000 m2 in surface) encircling the old medieval city and offering very popular scenic walks.
From Krakow, you can go rafting in Dunajec Gorges ("splyw Dunajcem"), a picturesque and unique area (many tour operators available). You can take beautiful treks between the peaks of the Pieniny. If you have time, you can also arrange a trip into the Tatra mountains.
Gdansk has one of the most popular national parks in the world outside the U.S, the Tatrzański Park Narodowy park near Zakopane. If you like the beach, the Gdansk Sopot resort is a major summer vacation destination.
Krakow or Gdansk: Food and nightlife
Krakow has one of the highest concentration of bars and pubs in Europe. Most of the nightlife takes place in the old town. There are many nice bars along Floriańska and Szewska streets. Locals in Krakow often hang out in pubs in Kazimier, the area with the most restaurants and bars in Krakow – it literally has pubs on every street.
You can experience traditional Polish food and homemade vodka at the Starka Restaurant. Kazimierz is also a good place to have dinner. For clubbing, Prozak 2.0 (600 m2) and Lokal Krakow (3 bars, 2 dancefloors, a different DJ every night) are two of the most popular clubs in Krakow. For bars, the Alchemia is famous with both locals and tourists, and the Strefa Piwa (Beer Zone) has a great selection of craft beers.
In Gdansk, most of the restaurants and cafes are located around the Museum of the Second World War. You can sample great pierogi (one of Poland's typical dishes) at the Pierogarnia Mandu Centrum.
Literacka is a great wine bar to have a drink on Mariacka Street. Other popular bars and pubs in Gdansk include the Red Light Pub (lively vibe despite its old and uncomfortable furniture), the Flisak 76 (vaulted basement, fabulous cocktails), Café Joseph K. (laid back ambiance and wide selection of drinks). Two popular clubs are Bunkier Klubogaleria, a 6-story former air-raid shelter/bunker, and Protokultura, hidden within a huge warehouse amidst Gdansk's shipyards.
Krakow or Gdansk: Lodging
Krakow
Rynek (Old Town) and Kazimierz are the most popular places for accommodation in Krakow. Krakow is usually safe with few safety worries. A pension in the old town is a good choice as you can easily access other areas by walking.
Vienna House Andel Hotel is a very highly-rated 4-star hotel a walking distance from the railway station, giving you direct access to the airport. Hotel Matejko is another very popular, slightly more affordable option.
Cracowdays is another nice and clean place very close to the Main Market Square. In Kazimierz, Miodosytnia is a small and comfortable aparthotel. Hotel Ester is also a beautiful little hotel.
Gdansk
In Gdansk, the old town area is also a popular place to stay due to the proximity of the sights and shops. Travelers often recommend the Hotel Wolne Miasto which offers good value and comfortable accommodation right in the old town.
The Ibis Gdansk Stare Miasto is slightly further away from the center, about a 500-meter walk from the main town area. It's a modern and social place significantly more affordable than the nearby Hotel Wolne Miasto.
Hotel Gdansk Boutique is also a cool hotel to stay in, with its lively Brovaria brewery on the ground floor. Hotel Hanza is another often recommend option due to its convenient location and decent service.
Krakow or Gdansk: Day trips
One of the most important day trips around Krakow is to visit the Auschwitz-Birkenau old concentration camp, for a poignant glimpse at one of the most horrific endeavors of mankind.
From Karkow, you can also visit the Wieliczka Salt Mine, a labyrinth of tunnels, chapels and chambers, the Ojcow National Park and its castles, or the Tyniec Abbey, a nice romantic trip in the Spring.
You may want to spend some time in Zakopane, close to the Slovakia border, a major mountain and ski resort and a nice place to visit in the summer, with beautiful views and shops, restaurants, and cafes – although some travelers say it's overcrowded and overpriced. You can take a day or overnight trip to explore Zapokane and the gorgeous Tatra mountains.
From Gdansk, you can take a day trip to Gydnia and Sopot (if traveling in the spring or summer). In Gdynia, you can visit museums and visit the Orlowo Pier and Gdynia cliffs. In Sopot, you can enjoy a spa, take a lighthouse view, walk on the crowded promenade and the longest wooden pier in Europe. If staying overnight, you'll also find a lively nightlife.
From Gdansk, you can also catch a train to Malbork (in Marienburg) to visit Poland's most famous castle built by the Teutonic Knights in the 13th century. Malbork is Europe's largest Gothic castle and a fascinating place with a nice restaurant to spend the day (see here for more info).
***
Photo credits:
(1) Featured: "The Wawel Castle and Cathedral in Krakow" (CC BY 2.0) by Naval S
(2) "Gdansk Waterfront" (CC BY 2.0) by lostajy
(3) "Old town of Krakow" (CC BY 2.0) by Lars K. Jensen
(4) "2011_0827_Gdansk_04" (CC BY-SA 2.0) by peatc
(5) "Krakow" (CC BY 2.0) by borshop
(6) "Krakow / Poland @2007@" (CC BY 2.0) by FcoMG // Humming
(7) "Gdansk, Poland 99" (CC BY 2.0) by james_antrobus
(8) "Gdansk Riverfront" (CC BY 2.0) by lostajy