Trying to decide between Jamaica or Costa Rica for a one-week or so vacation? This article compares the two destinations by looking at what travelers who have been to both say.
Jamaica is a Caribbean island with lush rainforests and mountains, and impressive white-sand, clear flat water beaches. It's known for its British colonial past, its large all-inclusive beach resort offering, diving sites, and unique reggae culture.
Costa Rica is not an island but a Central American country with both a Caribbean and an Atlantic coast. It's famous for its unique biodiversity and wildlife, protected rainforest, volcanoes, lush beaches, and eco-lodge offering. It's a good destination for hiking, surfing, and active nature exploration.
Which of Jamaica or Costa Rica should you choose for a one-week vacation? Jamaica is the best choice for an all-inclusive type resort where you can relax on a beautiful beach, do some scuba/snorkeling, eat and drink well, and party at night. Costa Rica, on the other hand, is best suited for jungle and wildlife exploration and adventure, secluded beaches, small eco-lodges, lots of moving around, and highly varied nature and outdoor activities.
Jamaica or Costa Rica: what travelers say
Travelers typically choose Jamaica for an all-inclusive resort-type vacation revolving around relaxing on a beautiful white-sand beach, swimming in clear blue water, and being catered to without moving too much from the resort aside from one or two excursions.
Negril and Montego Bay are the two most popular resort places in Jamaica. Montego Bay, however, is often seen as too commercial, with hotel-lined beaches and lots of tourist hustling. Negril has some of the best beaches.
Costa Rica is much less of a resort destination than Jamaica. It caters primarily to the jungle experience and adventure tour fans. The Atlantic coast has miles and miles of secluded rainforest-covered beaches, with frequent animal spotting.
Costa Rica's Atlantic beaches are more isolated than Jamaica's and don't offer much in terms of resorts or beach nightlife. Travelers looking for that kind of beach life tend to opt for Jamaica.
Costa Rica is a popular destination for active vacations including trekking, canyoning, zip-lining, whitewater rafting, surfing, and golfing. Travelers who go to Costa Rica enjoy rafting through tropical rainforest and seeing howler monkeys, sloths, toucans etc.
Aside from resorts, Jamaica also has impressive rainforest, mountains, and waterfalls such as Dunns River. Costa Rica, however, is much bigger and has much more diversity (1/4 of the country is protected jungle). Outdoor activities and tours are much more developed.
In Costa Rica, the Manuel Antonio national park has one of the most beautiful beaches, with coastal rainforest and clear blue sea. Jaco Beach nearby is also good for surfing and some nightlife.
In Costa Rica, getting around places for exploring wildlife and hiking requires driving. Travelers who like to stay in one place typically prefer to go to a Jamaica resort.
If you like to party and stay up late at night, a Jamaica resort vacation is a good choice. Costa Rica is more for wildlife and nature lovers and has limited entertainment at night.
Travelers in Costa Rica often stay 7-8 nights, including San Jose (the capital), the Arenal area, and the Manuel Antonio natural park. Travelers typically rent a car and stay in small hotels, alternating day trips with beach days.
Both Jamaica and Costa Rica have very rich cultures (one with British influence, the other Spanish) and food. Costa Rica generally requires more time to fully explore than Jamaica.
Jamaica often has some of the best-priced travel packages, including higher-end all-inclusive resorts like Secrete, Couples, and Iberostar. Vacations in Jamaica are generally more affordable than in Costa Rica.
Jamaica or Costa Rica: vibe & people
Travelers generally find the people in both Jamaica and Costa Rica to be nice and friendly. However, both destinations can have safety issues, particularly Jamaica.
In Jamaica, travelers who go to resorts are typically well-protected in guarded zones. When venturing outside resorts, travelers sometimes encounter locals who can be a bit resentful of tourists due to the strong poverty in the country and the ever-expanding flow of tourists.
Walking back drunk to your resort in the middle of the night may not be a good idea. Visitors should also stay away from buying drugs from local dealers.
Travelers generally feel safer in Costa Rica compared to Jamaica when exploring or going out at night outside their all-included resort. Though there can thefts or car breaks in Costa Rica, the safety issues are nowhere near Jamaica's, which is known for its strong poverty and high crime rates in some areas.
In general, travelers feel safe venturing out on their own in Costa Rica. Many travelers rent a car and drive to towns, or from San Jose to Arenal, to the Manuel Antonio park, or even to the Osa. Note that the roads are quite bad and bumpy, so visitors tend to rent SUVs.
In Costa Rica, the locals ("Ticos") are generally friendly and polite. Costa Rica is less mass tourism-oriented than Jamaica and has a lot to offer in terms on natural beauty.
People in Jamaica are also mostly friendly with a great sense of humor and relaxed island culture. In commercial areas, however, the locals can sometimes be "in your face", with beggars and vendors touting tourists who wander outside resorts.
Jamaica or Costa Rica: nature & outdoors
As mentioned, Jamaica has a better selection of white beaches (with luxury all-inclusive hotels right on-site) compared to Costa Rica. Jamaica's beaches mostly have calm and clear water. Negril's fantastic 7-mile long powder white sand beach is among the most famous.
The beaches in Costa Rica are nice as well, though the sand is often yellow or golden except for one white-sand beach in the Manual Antonio park. Some of the best beaches in Costa Rica are Playa Carillo (Atlantic), Playa Negra in Cahuita National Park, Cocles, and Manzanillo on the Caribbean coast.
While the all-inclusive resorts of Jamaica offer a wide range of watersports rental activities, Costa Rica is famous for its impressive jungle tours, canopy ziplining paths, and great waves for surfing and bodyboarding.
Costa Rica has a wide range of tours, e.g. excursions to the Land of Senses rainforest, riverboat rides where you can see white-faced monkeys and crocodiles, visits to the Arenal's active volcano etc.
There are countless trekking tours (including night ones), ATV tours, ziplining, and many organized tours and options for getting around easily and conveniently.
Experiencing the rich wildlife up close is probably Costa Rica's main attraction, with many varieties of monkeys, birds (toucans, parrots, macaws), sloths, snakes, poison dart frogs, lizards, caimans, etc.
Jamaica also has some nice outdoor options such as Dunn's Falls excursions, Caliche Canyon rafting (class III only), and a few zip lining operations. The island has lush and picturesque interior mountain ranges which are very easy to access and visit for tourists.
The Blue Mountains of Jamaica offer great hiking trails, panoramic views, and coffee plantations. You can also go bobsledding down Mystic Mountain.
Travelers generally agree, though, that the edge goes to Costa Rica for nature and outdoor.
Jamaica or Costa Rica: nightlife
As mentioned, Jamaica's resorts typically offer a lively nightlife with beach bars and parties. The reggae culture is vibrant in the island, with many beach parties at night and nightclubs offering rum cocktails. Travelers also enjoy local dishes such as curry goat and jerk chicken or pork.
The nightlife in Costa Rica is quite mellow, with pubs and clubs concentrated in San Jose (the capital) and popular tourist beaches such as Jaco (a bit seedy), Playa Tamarindo (sports bar, small club), and Puerto Viejo (a quiet town with a couple of pubs).
Jamaica or Costa Rica: lodging
Jamaica
Many travelers recommend staying in Negril vs Montego Bay for a less intimidating experience (over-developed).
If staying in Negril, you don't necessarily have to choose an all-inclusive resort as there are many beautiful smaller hotels along the 7-mile beach, away from the big resorts, as well as in the West end on the cliffs, e.g. the Rockhouse boutique hotel (here).
Ocho Rios also has decent beaches and is close to the Dunns River Falls and Luminous Lagoon sights.
When it comes to all-inclusive resorts, travelers often recommend Couples Negril for the friendly staff, the good food (soups, fruit pancakes, fruit syrups, jerk chicken etc), the ample and clean rooms (namely the garden deluxe room), the relaxing atmosphere and the entertainment.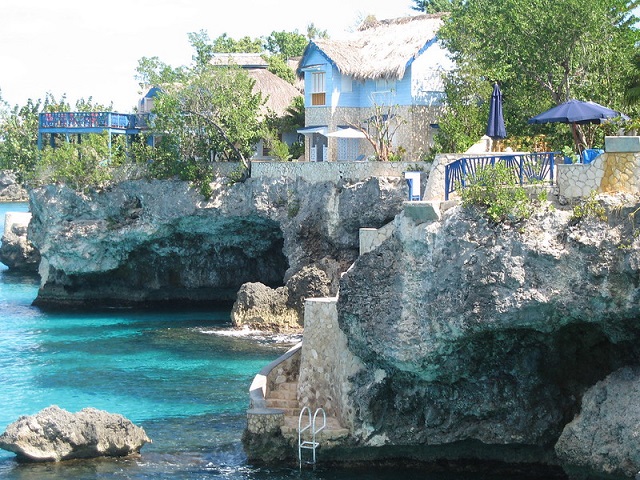 Couples Swept Away Negril is another often vetted place, including from travelers who have stayed at over 35 all-inclusive in the last 20 years.
The Westin all-inclusive resort in Playa Concha is another popular choice (here), lots to see and do, although a lot of walking is required.
In Montego Bay, the RIU and the Iberostar Rose Hall Suites (Booking) are also very well-rated options.
Costa Rica
Costa Rica has numerous small intimate hotels and lodges everywhere that give you comfort or even luxury while letting you keep your freedom for exploring and adventuring everywhere.
Tamarindo, for example, has some high-end, non-all-inclusive hotels right on the beach such as the Diria Beach Resort (here), a 5-minute walk to the village center for dinner and bars at night.
With regards to all-inclusive resorts, travelers often recommend the Occidental Grand Papagayo (here) on Culebra Bay's spectacular cliffs further North of Tamarindo, about 30 minutes from the Liberia airport.
***
Photo credits:
(1) Featured: "Jamaica 2014" (CC BY 2.0) by Evoflash
(2) "Costa Rica, South America" (CC BY-SA 2.0) by dconvertini
(3) "The West Beach From the Sunset Bar" (CC BY-SA 2.0) by Numinosity (Gary J Wood)
(4) "Early morning, Negril, Jamaica" (CC BY 2.0) by VV Nincic
(5) "costa rica beach-1" (CC BY 2.0) by Bulaclac Paruparu
(6) "lake-sky-arenal-volcano-costa-rica-LTO" (CC BY 2.0) by Travel-Local
(7) "Costa Rica – Monkeys" (CC BY 2.0) by andyrusch
(8) "Jamaica 2014" (CC BY 2.0) by CLender
(9) "Beaches Negril Pool" (CC BY 2.0) by ishane
(10) "Negril Cliffs 9" (CC BY 2.0) by Abeeeer
(11) "Costa Rica_SD2 (137)" (CC BY 2.0) by Coral B H