Crete or Rhodes: what travelers say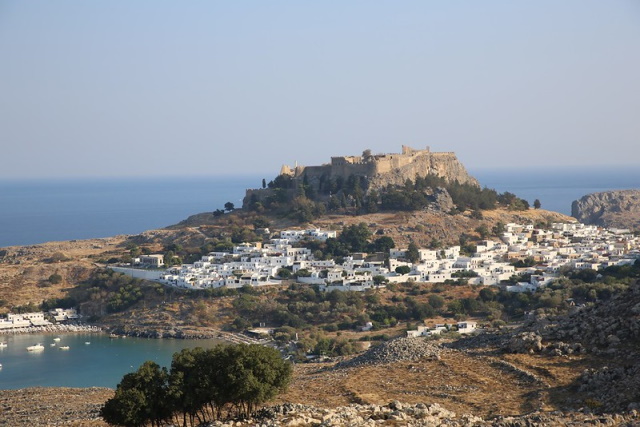 Many travelers think Rhode and Crete are both great options, but Rhodes has the advantage of a sight-rich walkable old town where you can see a lot in a few hours.
Rhodes is a much smaller island than Crete and hence more manageable, yet still big enough to keep you busy for 4 or 4 days. With a rental car, it's possible to visit most of Rhodes and explore its beaches in a relatively short time.
Crete is much bigger so a few days only allow scratching the surface, leaving out many great attractions. If staying in Crete for only a few nights, however, travelers suggest staying in Chania, Rethymno, and/or Heraklion.
Though touristy, Rhodes has many pleasant uncrowded places in the off-season (e.g. Haraki) as well as fabulous beaches. Crete also has great beaches (perhaps even better ones), big resorts with British-style bars, as well as authentic and quiet areas.
Travelers recommend spending at least a week in Crete due to the distances (250 km-long) and diversity of the island. Visiting Crete typically means a lot of driving.
Some travelers don't like Rhodes in the high season due to the large numbers of tourists and merchants trying to sell them things as well as the higher prices compared to Crete. The locals are also often friendlier in Crete.
If your goal is to stay in a resort, Rhodes and Crete are comparable as both have great weather, beautiful beaches, good food, vibrant nightlife, and beautiful scenery. Choosing between the two comes down to choosing a resort based on cost, chosen airport, and flight duration and deals. Some travelers do feel Crete has higher-end hotels namely in Elounda.
Some travelers like Rhodes for its old town but prefer Crete as an island. Some also prefer Crete to Rhodes because it has more to see and consider Chania one of the most beautiful old cities in Europe (for some even better than Rhodes old town).
Though Crete and Rhodes are both rich in culture and history, visitors particularly love the crusader history and antiquities in Rhodes Town. Rhodes Old Town is also very walkable and largely flat (though it has cobbled streets). It has many shops, restaurants, and bars.
The Rhodes Old Town is the island's bus hub, making it easy and cheap to go everywhere. Alternatively, booking tours to visit the island in easy from the city.
While Rhodes medieval town is considered amazing by most visitors, Crete's Minoan sights are absolutely unique in Europe.
Crete or Rhodes: access & transportation
Whether you choose Crete or Rhodes for your stay, most travelers recommend flying directly to the island from the US (through Athens) vs staying in Athens for a few nights first, and then flying out of Athens for the return trip. Open-jaw tickets rarely cost more.
Visiting Athens at the end of your trip makes a lot of sense to save time – upon arrival, you're already at the Athen airport so you might as well continue directly to the island – and to avoid backtracking.
If going to Crete, you can fly into Chania or Heraklion – Chania's has a better airport. If going to Rhodes, an alternative from Athens is to book a cabin on a Bluestar ferry sailing, leaving Athens Piraeus at 6 or 7pm and arriving in Rhodes at 8-10am, with dinner and breakfast on the boat.
There are direct flights from Crete to Rhodes, namely through Sky Express (small planes, one-hour flight, pay for luggage). Flights from Rhodos (city) to Heraklion (Crete) last 45 minutes with fares starting at 30 euros, whereas flights to Chania stop in Athens and last 3-5 hours.
In the warm season, there are daily catamarans or ferries linking Heraklion (Crete) to Santorini, Naxos, Paros, and Mykonos. There are also daily ferries from Heraklion and Chania to Athens (Piraeus). Ferries from Crete to Santorini take around 2 hours.
From Rhodos (Rhodes), there are weekly ferries to Heraklion (Crete) and to Santorini. There's also an hourly bus running from Heraklion to Chania every hour (under 3 hours ). The ferry crossing from Rhodes to Santorini lasts about 6 hours.
In Crete, the bus system is cheap, frequent, and reliable. Driving is not easy as the roads are often bad and the Greeks often drive recklessly, so it takes a lot of time getting from point A to B on this big island.
If you choose to rent a vehicle, most travelers advise against renting a scooter, a car is a safer choice and better-suited for visiting the island.
In Rhodes Town, a car is not needed except for day trips. It's a good base location for a holiday.
Crete or Rhodes: vibe & people
Both Crete and Rhodes are very touristy places in the warm season – travelers are sometimes put off by cruise ship group invasions e.g. in the Rhodes Old Town. In September-October, however, tourism slows down which can make the islands more pleasant to visit if you don't like crowds.
Crete is a very large island with varied geography. Seeing everything during a single short stay is difficult, so travelers often choose a specific region to explore. Crete generally has fewer tourists than other Greek islands – although many tour groups flock to the ruins of Knossos and Heraklion.
Even if you staying in a popular tourist area like Malia or Rethymno, you can easily get away from tourist crowds by driving about 30 minutes. Staying around Rethymno and taking day trips from there can save you a lot of driving.
If you don't want to drive, you can also choose to stay in the Chania old town, one of the most attractive towns in Greece. Take day trips to Heraklion and Knossos, or to Almyrida, Kalives, Agia Marina and Georgioupolis. If staying in Heraklion, travelers recommend Elounda, Sissi and Milatos.
Many of the local tourism businesses in Crete are family-run so visitors often become part of the family. Some close in the low season.
The weather in Crete is typically nice in June and September, windy in August, hot in July (no wind). Crete in windier than Rhodes in the summer.
Rhodes
In Rhodes, travelers recommend staying a minimum of 3 full days. While smaller than Crete, the isle still has large distances to travel. Travelers suggest spending a full day or two exploring the fascinating medieval old town with the Knights palace – although in the summer, expect tourist invasions.
Rhodes offers a nice blend of sightseeing and resorts. Some travelers rent a car to drive around the island with stops at nice beach clubs and other relaxing places. The island has kept authentic and quiet areas away from the crowds and easily reachable by car.
The south half of the Rodes island, including the east coast south of Kiotari, is little developed and has miles of pristine, untouched turquoise water beaches with beautiful mountain backdrops. The west coast is also quite wild, and the inland area has nice authentic villages.
On Rhodes, many travelers also suggest spending a day or two in Lindos and Pefkos, two well-known beach resorts on the East coast, about 40 miles from Rhodes city. Lindos has great ruins you can hike to (overrun by tourists in the warm season) and a nice beach.
Pefkos is also a cute resort with a sheltered beach cove and nice restaurants and bars in a quiet and relaxed atmosphere.
Crete or Rhodes: sights & culture
Crete and Rhodes offer a wide range of historical sites from Minoan, Hellenic, and Medieval eras. Crete has many archeological sites and three Venetian-era cities with old towns and ports dating back up to 800 years.
Chania and Rethymno are two of them. Chania has a very attractive old town with a Venetian fortress and boathouses, Minoan ruins everywhere, a very picturesque port, old tanneries and interesting indoor and outdoor markets, 18th-century Ottoman empire minarets, and a fascinating Botanical Gardens outside the old town.
Heraklion, the capital, has the famous Heraklion Archaeological Museum with Minoan exhibits as the island Crete was the center of the Minoan Civilization which ended around 1500 BC. You can also visit Knossos, the world-famous prehistoric site home to the mythical Minotaur.
Rethymno, located in-between Chania and Heraklion, also has lots historical sites as well as a long, sandy beach. There are also the Mallia Archaeological site, the Lasithi plateau, Spinalonga, Elounda, Agios Nikolaos, Gortys, Festos, Matala.
Driving around the island is very pleasant, particularly the west coast which is green and lush with scenic towns. The resorts of Agios Nicklos and Eleutherna (Rethymno) are worth a visit.
In Rhodes, the old town is often described as a huge open-air museum and UNESCO world heritage site. The historic cobbled streets are lined with Medieval fortresses and walls, temples and mosques, museums, palaces and fountains, museums etc.
The Street of the Knights, Odos Ippoton, is where the knights of Saint-John lived, with houses still exhibiting the famous knights' shields over the doorways. The Palace of the Grand Masters, a castle once occupied by the Ottomans and then the Venetians, hosts a great history museum.
The main pedestrian street, Socratous, divides the old town in two and has many jewelry shops with accessible prices, including Lalaounis, one of the most renowned jewelers in Greece. There's also a worthwhile Lalaounis Museum near the New Acropolis Museum.
Crete or Rhodes: nature & outdoors
Crete has fine-sand beaches e.g. around Elafonisi, a vast palm forest on the beach of Vai, the tall White Mountains, with Mount Ida as its highest peak, and the 16km-long Samaria Gorge, very popular among hikers. The island also offers rich wildlife including golden eagles.
In Rhodes, Falikari Beach is a vibrant resort area between Rhodes city and Lindos offering many watersport attractions. Windsurfing is also popular in Prasonisi. The Inland part of the island offers good hiking opportunities with scenic villages and valleys.
Crete or Rhodes: lodging
Both Crete and Rhodes have a broad choice of resorts, even more so in Crete due to its larger size.
The Rhodes old town has a good choice of accommodations from B&B to 5-star hotels. There are many hotels within the fortified walls than can be accessed by car, such as the popular Hotel Cavo d'Oro, Hotel La Sera, and Hotel Saint Michel.
Travelers frequentlý recommend the Sheraton which offers a beach location and easy access to the old town. The ocean is nice even though the beach is rocky with a bit of waves (hard on the feet).
The Rhodos Park Hotel, right outside the old town's Amboise Gate, is very centrally located and has a great pool.
Pefkos is also a popular holiday area in Rhodes. It's relatively far from the airport and many resorts there have exclusive agreements with tour operators, so looking for holiday packages is often a good option.
Some travelers suggest splitting your stay between Rhodes town and Lindos, another popular holiday village with an ample beach and an ancient acropolis overlooking the Aegean sea and the shores of Turkey. Lindos is also a good base for nice day trips.
Crete
In Heraklion, travelers often recommend the Marin Dream which is within walking distance of the old city and to the bus station. The hotel is clean, quiet, and has decent prices in light of its location. The top floor has nice views on the fortress and the sea. The staff is helpful and friendly.
Uphill from the port are two decent, cheaper places, Hotel Life and Hotel Athinailo, also well-rated by travelers.
In Chania, travelers often recommend finding a hotel just outside town near the beach and take local buses into town for exploring. Near Chania, the beach resorts of Agioi Apastoloi and Chrisi Akti are considered good places for family holidays and are close to the city.
Argo Beach is a good location in the city itself. Travelers highly recommend the Lefka Apartments which offer good value, a taverna, and pleasant vibes. It's located close to a beach and is a 5-minute bus ride from the old town.
Popular resorts a bit further from Chania include Georgioypoli, Almirida, Kalives, and Paleochora.
Day trips
These are just a few examples of the great day trips you can take in Crete:
In the Chania area, you can take day trips to the great beaches of Falassarna and Elafonisi. You can also take a boat from Kissamos to Balos and Gramvousa. Or you can drive to Rethymno and back to Chania in the evening.
From Chania with a rental car, you can take the scenic drive to the Samaria Gorge. You can also go there by bus and hike down and through the gorge all the way to the south coast (a 10 mile and 5-6 hour hike), then catch a boat and a bus back to Chania. An amazing hike (though quite hard) starting 1250m above sea level.
You can catch a ferry from Heraklion to Santorini
Here are some nice day trips from Rhodes:
Travelers often suggest renting a car and driving to Lindos and Asklepeio along the east coast, then south to Prasonissi and Monolithos.
You can drive to the north coast to the Kameiros Minoan site with great sea views
From Rhodes city, you can take ferries to the beautiful islands of Halki and Symi
From Rhodes city, take a boat trip to Ephesus in Turkey for the day. For a longer trip, you can take the ferry to Marmaris (about one hour) – then take a taxi from the ferry terminal to the bus station, and a bus to Fethiye (about 2 hours). Fethiye has many hotels, restaurants, Turkish baths, the nice Olu Deniz beach, and the blue lagoon.
***
Photo credits:
(1) Featured: "Chania Sunset" (CC BY-SA 2.0) by szeke
(2) "Lindos, Rhodes, Greece" (CC BY 2.0) by AndreyFilippov.com
(3) "Rhodes, Greece" (CC BY 2.0) by AndreyFilippov.com
(4) "Rhodes Old Town, Greece" (CC BY-SA 2.0) by Andrew_D_Hurley
(5) "Crete" (CC BY 2.0) by El Mostrito
(6) "The Sea Gates, the main entrance to Rhod" (CC BY-SA 2.0) by Corvair Owner
(7) "Crete" (CC BY 2.0) by El Mostrito
(8) "Rhodes, Greece" (CC BY 2.0) by AndreyFilippov.com
(9) "Crete" (CC BY 2.0) by El Mostrito
(10) "20031014-102654" (CC BY-SA 2.0) by storem