Many travelers to Europe consider paying a 3 or 4-day visit to either Copenhagen or Prague as part of their journey, coming from one of the main European entry cities such as Berlin, Amsterdam, or Berlin. If that's a choice you're facing, keep reading, the goal of this post is to help you make a choice between the two.
Prague, capital of the Czech Republic, is often seen as one of the most beautiful cities in the world with its stunning old town and incredibly rich historical sights and architecture. Copenhagen, capital of Denmark, is also beautiful, green, and pleasant to visit, slightly smaller than Prague (800.000 vs 1.3M inhabitants).
If you only have a few days, your choice of Copenhagen vs Prague will depend on what you're looking for, e.g. history vs lifestyle Let's dig in!
Copenhagen or Prague: what travelers say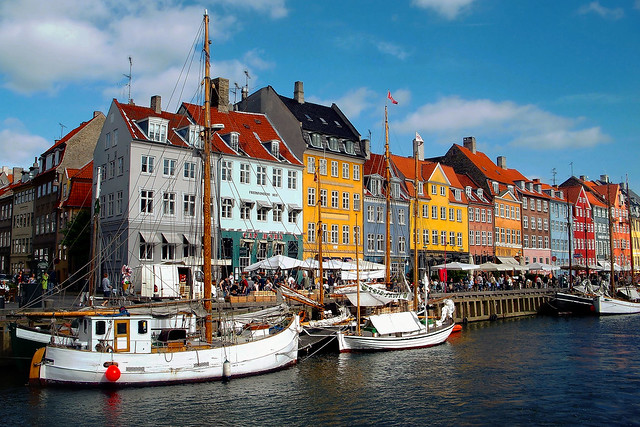 Travelers are often hard-pressed choosing one city over the other as, although very different, both are very pleasant to visit and very walkable.
Most travelers, however, tend to vote for Prague due to its stunning sights and architecture. It's common for visitors to say Prague is one of the most beautiful cities in the world, second only to Paris.
Another important reason many travelers choose Prague over Copenhagen is that Prague is a much cheaper place – Denmark (like its Scandinavian siblings) is one of the most expensive countries in Europe.
Travelers typically feel that, while Copenhagen is a charming city, it is not as unique as Prague, namely due to the latter's fascinating old town – unlike other cities in Europe, Prague was not destroyed during the war. Travelers love to wander around Prague's historical buildings.
While you can typically visit Prague in 3 days, most travelers recommend at least 4 days – you can actually easily spend 6 or 7 days there as the city has history, many attractions, romance, and people from all over the world.
However, Prague is overrun by tourists most of the year and can feel like a giant tourist trap, leading some travelers to choose Copenhagen instead.
While Prague is pretty, historic, and easy to visit, some travelers find Copenhagen a more interesting modern European city. Although it can be a little gritty in certain parts and overall not as attractive as Prague, it's also relaxed and charming, very easy for visitors thanks to the great metro transportation system with efficient buses and S-trains.
Visitors who choose Copenhagen like the authentic lifestyle and special architectural feel of the city – whereas Prague can sometimes feel too much like a precious decor.
Copenhagen is viewed as a nice and clean city with lots of green areas, sometimes described as one of the nicest cities in Europe – and even beyond. The people in Copenhagen are extremely friendly and, unlike in Prague, most people speak English.
Copenhagen is a reputable place for high-end dining and shopping, and upscale hotels. There are also nice day trips to take from the city, including Helsingør.
Travelers commonly recommend 3 days as being a good length stay in Copenhagen. Popular areas like Nyhaven, Tivoli, or the Stroget are typically quite lively but not generally mobbed by tourists like in Prague.
Copenhagen or Prague: access & transportation
As Amsterdam is a frequent entry point in Europe, it's easy to fly from there to either Copenhagen or Prague. You can also choose to take a train from Amsterdam to Copenhagen through Munich, or to Prague through Hamburg or Cologne, allowing a quick visit to these German cities. The train ride is a long one, however (12-13 hours).
The train can be a cool way to go from Brussels or Amsterdam to Prague and experience overnight trains of Europe – while saving a hotel night. There are frequent buses and trains between Berlin and Prague and between Vienna and Prague (both are about 4.5 hours by train).
A frequent itinerary is to fly into Brussels, then move to Amsterdam and visit the city before going to Copenhagen or Prague, both relatively close. You can fly from Amsterdam to Prague with EasyJet in less than 2 hours for under 100€, and to Copenhagen with other companies for similar prices. Brussels Airline and Czech Airlines both serve the Brussels-Prague route.
An alternative journey some travelers choose is to fly to Vienna, then travel overland to Prague, and optionally continue their journey North and West to Copenhagen.
Copenhagen or Prague: vibe & people
Copenhagen is a very pleasant city, and visitors are impressed by the kindness of the locals and the ease of getting into the real life of the city. You can easily walk or bike in the city and talk to locals who are happy to share information about the best places to go to.
In contrast, some travelers feel they're not getting as warm a welcome in Prague and have a hard time experiencing the authentic local life, possibly due to the constant and massive flow of tourists.
Prague's major sights like the Old Town, the Castle, and Charles Bridge are often very crowded, with tourist shops everywhere. However, areas outside of the old city core are much less crowded and more pleasant to visit. Also, in the winter, Prague gets quite cold and so it's the only time the city is not flooded with tourists.
Although quite touristy as well, Copenhagen is much more spread out, unlike Prague where most of the sights are concentrated in the old town. Thus, Copenhagen does not feel nearly as overrun by tourists.
Copenhagen has nice beach areas near the center and great parks and beaches North of the city. Due to being on the water, though, the city gets very cold in late fall and winter.
Copenhagen is a very nice place for walking around, shopping, and going out – the dining scene in Copenhagen is huge. There are a few sights, including beautiful palaces, though not nearly as many as Prague. Copenhagen, however, has a modern and affluent city feel with dynamic vibes and highly interesting architecture.
Copenhagen is also pleasing in December despite the cold, as Stroget, the main shopping and strolling street, is beautifully decorated and illuminated, reflecting the Danish holiday spirit. It's a great time to shop and pop into cozy cafes to escape the cold.
Copenhagen or Prague: sights & culture
Most of the sights in Prague are located in the historic cobblestoned Old Town which has many colorful baroque buildings and Gothic churches with their elegant spires.
The Astronomical Clock is a famous medieval landmark, and the 15th-century pedestrian Charles Bridge is renowned for its statues. The impressive 9th-century Prague Castle, with its majestic Saint Vitus Cathedral and its surrounding museums, dominates the city view.
The Jewish Quarter, synagogue, and cemetery are also important sights. In the modern town, the Wenceslas Square area is filled with art-nouveau architecture. The Letná Park boasts an ample beer garden and beautiful views over Prague. Other great sights include the Rudolfinum concert hall and the Estates Theatre.
Copenhagen also has also quite a few attractions that are well worth a visit, including its own city center, the Frederiksstaden 18th-century rococo district, and the stunning Amalienborg Royal Palace, Christiansborg Palace, and Rosenborg Castle and gardens.
Copenhagen also has numerous parks, the most famous of which is the 19th-century Tivoli amusement park – for most travelers a must-do attraction, especially at Christmas.
The Stroget is a famous upscale shopping area, while the Nyhavn port is a famous dining district. Copenhagen also has great museums such as the Ny Carlsberg Glyptotek (impressionist paintings) and the Frilandsmuseet (showcasing Danish houses across the centuries).
Other noteworthy sights include the Danish Design Museum, the new Aquarium, the Royal Theatre and the Radio Concert Hall in Orestad, designed by star architect Jean Nouvel. The Chistriania hippy district, aka the anarchist commune, is a community of bohemians with their own rules, also worth a visit.
Copenhagen or Prague: food & nightlife
As mentioned, Copenhagen is a reputable place for fine dining, with an impressive array of Michelin-starred restaurants, such as the Geranium (3 stars), the Noma, the AOC, the Kadeau (2 stars), and many 1-star places e.g. the Marchal, the Clou, the Relæ, the Era Ora etc.
Copenhagen has various nightlife areas scattered all over the city. Christianshavn is a popular area for laid back bars and restaurants. There are also many hip bars and restaurants in the Nyhavn port area, North of the city.
Other areas with lively places to have a drink include Vesterbor (cheaper pubs) and Norrebro (Sank Hans Torv part), which has good clubs and bars with Danish music. The Osterbro area has old-style beer houses and wine bars, as well as lounge bars with relaxed music.
When it comes to nightlife, Prague has a plethora of options, more so than Copenhagen. Most of the popular clubs in Prague concentrate in the Old Town center. Karlovy Lazne, one of the biggest clubs in Central Europe and a student nightlife hub, has 4 levels and fantastic views. Other hip clubs include the Roxy, the Vertigo, and the Lavka.
Besides clubs, Prague also has a wide range of relaxed places for a beer or a live concert, such as Alternatiff, Bordo, and Club Nebe, or indie rock music with places like Abaton and Lucerna Music Bar. There are also many lounge places such as Think Pink and Atmosphere, as well as a host of Irish pubs.
Copenhagen or Prague: shopping
As mentioned, Copenhagen is a great place for upscale shopping. Stroget is one of the longest pedestrian streets in Europe with hundreds of shops from affordable to luxury. Købmagergade is also a very busy shopping street, and Pilestræde, parallel to it, has fashionable shops, trendy cafes and cool bars.
In Prague, Na Prikope is one of the most popular shopping streets. The most interesting things to buy in the city include glass and crystal items, fashion clothes, antiques, and lingerie.
Copenhagen or Prague: lodging
Prague has a very ample choice of hotels. Travelers often recommend looking for accommodation in the Mala Strana area. Be aware that hotels in Prague are quite busy year-round, especially on weekends, and even in December when many tourists come for the Christmas markets.
the K+K Fenix is also often mentioned for its great location close to the Wenceslas Square and within walking distance to most places, as well as its good breakfasts. At the high-end, the Marriott Hotel is quite nice and also a couple of blocks from the old city. Backpackers repeatedly praise Hostel One Home as one of the best places to stay for solo travelers, being very close to both the Old Town and the train station.
The Marriott in Copenhagen is also very well-rated, located on the canal and about 2 blocks from Tivoli Gardens – you can even enjoy the fireworks at night if your room is on the right side.
Copenhagen or Prague: day trips
There are great day (and overnight) trips you can take from Prague, such as:
Cesky Krumlow, a nice village with the second largest Castle in the country
Kutna Hora, another little town famous for its silver mines and Santa Barbara Cathedral, and the Sedlec skeleton-decorated bone church
Terezin ( Aka Theresenstadt) whose ghetto and fortress were used in nazi propaganda films during world war II
Cesky Budjevoce which has the second-Largest public square in Europe (following Moscow's Red Square) and is home to the original Budweiser beer.
Other nice towns such as Telc and Trebon
You can also take a trip to the Czech Republic to enjoy some of its thermal baths towns.
Copenhagen, for its part, is very close to Sweden. Through the Oresund link, you can easily cross to Malmo (a 20-minute train ride), also a beautiful historic city. You can also take a day trip to the Lousiana Museum, which has a fantastic children's museum, and Elsinore which has a historical charm similar to Prague – narrow streets, big castle, interesting museums.
***
Photo credits:
(1) Featured: "Prague" (CC BY 2.0) by yannick.loriot
(2) "Copenhagen" (CC BY-SA 2.0) by john.anes
(3) "El Puente de Carlos – Praga – República" (CC BY-SA 2.0) by El Coleccionista de Instantes
(4) "Copenhagen" (CC BY 2.0) by ChrisYunker
(5) "Prague" (CC BY 2.0) by yannick.loriot
(6) "Copenhagen" (CC BY 2.0) by leduardo
(7) "Prague" (CC BY-SA 2.0) by avinashbhat
(8) "Copenhagen." (CC BY-SA 2.0) by aaron.bihari