Many travelers ask which of Casablanca or Marrakech is a better choice for flying into or flying out of Morocco before and after touring the country. They also wonder which of the two cities offers the most interesting experience for a visitor.
Casablanca, the economic and business capital of Morocco, is a large, unruly city that may feel rough and unpleasant to the first-time visitor. Marrakech, on the other hand, is tourist-friendly, visually attractive, has numerous traditional, cultural, and historical sights, with abundant dining and entertainment offerings and a plethora of upscale lodging.
While Marrakech has many gems to see – the medina, market, palaces, mausoleums, gardens, gorgeous riads etc, Casablanca has some astonishing sights of its own, such as the breath-taking Hassan II Mosque, the beautiful oceanfront promenade, the colonial and art deco districts, a vibrant nightlife scene, and an overall authentic and modern vibe full of contrasts that you won't find elsewhere.
Casablanca or Marrakech: what travelers say
Marrakech is an ancient imperial city with lots of historical monuments and places of interest, on a beautiful Atlas mountain backdrop. Casablanca is the business capital of Morocco, overlooking the Atlantic Ocean, with a much more modern and less traditional Moroccan feel.
Visitors generally recommend Marrakech over Casablanca for its vibe, colors and smells, history, and tourist-friendly atmosphere (despite some hassles). Casablanca is often described as an unfriendly concrete jungle that is not so tourist-friendly and offers limited interest.
Casablanca, however, has a great heritage of French colonial architecture and several traditional old towns and markets. These are much more local and less touristy compared to Marrakech. Casablanca also has one of Africa's largest and most beautiful mosques.
Marrakech has the famous Jemaa El Fna square and souk (market) with street performers and traditional food and crafts. The visitor is taken back in time and immersed in the ancient Muslim culture.
Marrakech is overrun with tourists all year, while Casablanca offers a more authentic Moroccan experience with a surprising blend of modern and traditional.
Some visitors find authentic attractions in Casablanca, including the oceanfront, the big mosque, the architecture, the old towns /souks, the modern city and brand new commercial centers, and a unique blend of Arab/Muslim and Western culture.
Marrakech is quite far from the ocean and gets extremely hot in the summer and relatively cold and rainy in the winter. It's a good base for day trips to Essaouira and the Atlas Mountains.
Casablanca is on the coast, with pleasant temperatures year-round, though quite humid in the winter. Casablanca is a good base for day trips to Rabat (the capital city) in the North and El Jadida (an old Portuguese city on the ocean) in the South.
The real Casablanca has nothing to do with the movie, although a stylish and retro-looking Rick's Café was built after the movie – which was shot in Hollywood studios.
Casablanca or Marrakech: access & transportation
Both Casablanca and Marrakech have high-traffic international airports with abundant international flights to and from Europe and North America. You can find daily low-cost flights to Marrakech from an ever-growing number of European cities.
Casablanca's Mohamed V airport is a 30-minute train ride or a 30-45 minute drive from the city center, depending on hour of day and destination in the city). The train station is in the airport basement. The Marrakech airport is only a short drive (15 +minutes) from the old town.
The train ride from Marrakech to Casablanca is about 3.5 hours – most tourists book first-class. A private bus will typically take 2.5 – 3 hours through the modern highway, with nice scenery.
Since 2012, Casablanca has an excellent tram system that lets you easily get around the city. The cost of the journey is low (6 dirhams as of now) and you can buy a multiple-journey card from ticket machines at the train and tram stations.
In Marrakech, city buses are a good option. The city center lines include the Airport bus and are great for sightseeing at very low cost. You can also catch a touristic hop-on/hop-off bus.
In both Casablanca as in Marrakech, you can also get around town very easily by "petit taxi", small cabs (red in Casablanca, beige in Marrakech) that are constantly crisscrossing the city at inexpensive prices. As a tourist, make sure the driver turns the meter on – or find another cab.
Casablanca is now connected to Rabat and Tangier by a new high-speed train line (named "Al Boraq"). It now takes a couple hours to get from Casablanca to Tangier vs 4-5 hours previously.
Casablanca or Marrakech: vibe & people
Marrakech is generally seen as a nice place with great culture and history, an excellent and generally friendly medina, where you feel transported in a highly exotic, 1001-nights Arabic-style world.
The Jemaa El Fna main square is very lively with snake charmers, puppeteers, story-tellers, tea sellers, etc, who all contribute to the fascination of the first-time tourist. The ocher-colored traditional houses and the maze-like pedestrian streets of the Medina all add to the charm.
On the downside, street performers in Marrakech constantly ask you for money (1-2 dollars) even for taking a photo. You get constantly touted by sellers in souvenir, carpet, leather, perfume shops, tea houses, restaurants, barbers, etc.
If you do buy, you generally get ripped-off a little no matter how much you haggle. Also, beware of pickpockets at all times.
While the souks in Marrakech are full of tourist touts and scams, Casablanca's ancient medina is an authentic every-day souk for the local population, a very real Moroccan experience. You'll find less of a show, but also fewer hassles since buyers here are mostly locals.
Though travelers often come to Casablanca with images of the movie, the reality of Casablanca is much less exotic. While the city has some beautiful sights (see next section), it also has many less-than-attractive areas, including in the center.
Thefts and muggings are not uncommon in Casablanca – more so than Marrakech which is highly secured for tourists. When visiting the city on foot, avoid carrying visible valuables, stay in well-trafficked areas and avoid walking alone in deserted streets, both during the day and at night.
If you take appropriate safety precautions and stay out of rough areas, you'll mostly meet friendly, welcoming, and helpful locals in both Casablanca and Marrakech – although people in Casablanca have a reputation for being rougher due to the big city life.
Casablanca is also a major business destination, especially since it's now becoming a financial hub for companies investing in Africa. Impressive new business districts are popping up, and business travelers generally find most of the services they would expect in Europe.
Casablanca or Marrakech: sights & culture
As mentioned, the Jemaa El Fna square is one of Marrakech's main attractions. The medina, ancient Berber city surrounded by fortified walls and full of traditional markets and majestic riads (traditional houses with central patios), is also a major focus point for visitors.
Marrakech has a set of impressive historical palaces, such as the Bahia Palace (19th century) and the ruins of the 15th-century El Badi royal palace. It also has major religious landmarks such as the 12th century Koutoubia Mosque with its high minaret, the Saadien sultan's mausoleum and gardens, and the Ben Youssef Mosque – the city's oldest.
There are also stunning historic gardens to visit in the Oasis city, such as the 12th century Menara Gardens botanical park, the world-famous Jardins Majorelle – exotic gardens started in the early 1920s by a great artist and painter, and the 19th-century Jardin Secret Islamic garden.
Marrakech also has a few museums including a photography museum, a Moroccan arts and crafts museum, a gallery for modern African art (MACAAL), and the Yves Saint Laurent fashion design museum.
Casablanca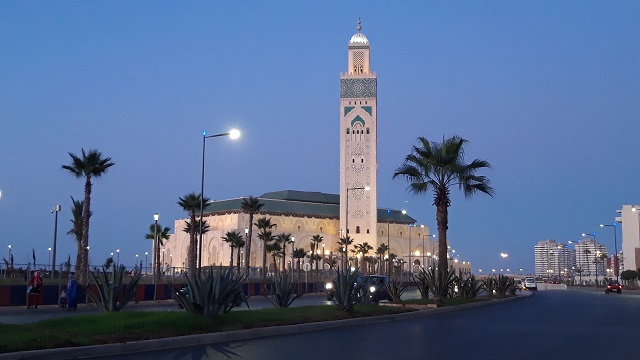 In Comparison to Marrakech, Casablanca's main sights are lesser-known among travelers, aside from the imposing and ornate Hassan II Mosque overlooking the ocean – the largest in Africa with its 210m minaret, its incredible hand-crafted marble walls, and its retractable roof.
Besides the mosque, Casablanca has beautiful examples of French colonial and art deco architecture, such as the Marché Central (central market), the Place des Nation Unies plaza, and the Place Mohamed V.
These 3 locations are easily accessed from the main train station (Casa Voyageurs) by catching the tram to the stations bearing their names. The Mohamed V Boulevard, along which the tram runs, is lined with more art deco buildings – some of them in a sad state.
The Villa des Arts is a cultural center hosted in a beautiful 1934 art deco villa, offering regular contemporary art exhibitions and events. The central bank, courthouse, and central post office in Casablanca are all great examples of French colonial architecture, worth checking out for architecture or history buffs.
Casablanca has two medinas (traditional areas). Similar to Marrakech, the "Old Medina" is quite large with historical narrow alleyways, small plazas, and fortified walls (La Squala) with canons facing the ocean. The old medina, however, is not as well-maintained as Marrakech's.
The "new medina", or Habous district, dates back from the 30s and was designed by the French like a traditional Moroccan village, with a blend of colonial French buildings. It's an attractive, clean place well worth a visit, including for shopping.
Casablanca's oceanfront, the Ain Diab Corniche, boasts a beautiful multi-mile-long promenade along the Atlantic's sandy beaches. The promenade was revamped several times and is now a popular hangout for walkers, joggers, cyclers, and families.
The North part of the Corniche is lined with upscale hotels and restaurants, and trendy discotheques are found in the back streets behind the seafront.
A brand new second promenade is about to be inaugurated right next to the Hassan II Mosque. About as long as the Corniche, it has extensive public gardens with palm trees, and sporting infrastructure including nice cycle paths. The promenade connects the Casablanca lighthouse to the Mosque and the brand new Marina business and shopping complex.
Casablanca or Marrakech: food & nightlife
Marrakech is famous among foreigners for its nightlife, as it has a broad offering of upscale restaurants, pubs, and clubs, including places that attract some of the wealthiest people in the world.
There are trendy bars and restaurants located in various areas of the cities, including the Medina (e.g. in exclusive riads), the Gueliz district, the Hivernage area, and the exclusive and upscale Palmeraie, where the rich and famous own posh villas.
Fashionable high-end places to hang out for dinner or a drink include the posh Mamounia hotel with its historic gardens and casino, and its La Perle Skybar rooftop bar and restaurant. Other hip places include the Pacha (Ibiza-style), the So Lounge (Sofitel), the Theatro and the 555 Famous Club (expensive clubs for jet setters).
Other (more affordable) examples of nice places to hang out include the Kosy bar, a relaxed rooftop bar, Café du Livre, a nice chillout café and restaurant combined with a bookstore, Café Clock, which offers great live performances in the Kasbah (no alcohol).
Casablanca also has its share of high-end restaurants and pubs. Unlike Marrakech, where a large share of foreigners fill up the restaurants and bars, the customers here are primarily well-off Moroccans.
Similar to Marrakech, major European and American food and pub chains are present in Casablanca. Alcohol is expensive in Morocco, so only the elite can generally afford hanging out at the trendy spots.
Many of the fashionable dining and drinking spots in Casablanca concentrate around the up-and-coming Gauthier, Racine, and Maarif districts, and the area around Boulevard d'Anfa. The Corniche seafront area, for its part, gathers most of the late-night trendy clubs attracting the well-off Moroccan youth.
Both Casablanca and Marrakech have a broad choice of restaurants, ranging from affordable traditional food places for the average Moroccan, to high-end luxury gourmet places.
The Rick's Café restaurant and bar was built after the movie Casablanca, which was shot in Hollywood studios, by an American woman. It recreates the colonial style and atmosphere of the movie. The place now faces the new luxury Casablanca Marina complex and shopping center.
Casablanca or Marrakech: shopping
Both Casablanca and Marrakech have abundant shopping opportunities, both for traditional Moroccan crafts and for modern consumer goods.
In Marrakech, as you would expect, most of the shopping for traditional goods, from leather to spices, textiles, carpets, pottery, pastry, handmade objects etc, takes place in the Medina's souks.
Likewise, Casablanca's old medina has a bazaar area where a large number of traditional shops sell these types of goods. The Habous "new medina" has an even larger gallery of traditional shops, with sellers generally friendly and offering reasonable prices to locals.
Both Marrakech and Casablanca also have large state-owned handicraft centers where some of the best products made by traditional artisans and cooperatives are exposed and offered at state-controlled prices.
Both Marrakech and Casablanca have developed modern luxury shopping centers over the past years. Casablanca has the largest luxury mall of Africa, the Morocco Mall, with its aquarium and hi-max theater.
The Anfa Place Mall and the brand new Marina Shopping mall, part of the luxury marina complex across from the Old Medina, are two additional high-end commercial centers in Casablanca.
Likewise, Marrakech has a few upscale shopping malls, including Menara Mall, Carre Eden Shopping Center, and Al Mazar, each bringing together a wide selection of trendy European fashion stores, along with restaurant and entertainment services.
Casablanca or Marrakech: lodging
In Casablanca you'll find a wide selection of hotels all around the city, from basic hostels to 5-star palaces. The area you choose depends on your personal tastes and constraints, but here's a rundown of options:
La Corniche / Ain Diab: oceanfront, lots of restaurants & clubs
Boulevard d'Anfa: central for business and hip restaurants
Maarif / Twin Center: great for shopping
Gauthier: trendy with plenty of cool restaurants and bars
Bourgogne: relaxed and calm with a hip side and two markets
Mohammed V blvd: old Casa/art deco area, a bit shabby at night
Avenue des Far/Casa Port: modern business area, need taxi to get around
Sidi Maarouf: closer to the airport, business district, dead at night
Major international hotel chains are present in both Casablanca and Marrakech. Casablanca has Mariott /Sheraton, Four Seasons (on the seafront), Sofitel, Hyatt Regency, Barcelo, Exe, Ibis/Campanile/Novotel, among other chains.
Noteworthy luxury hotels travelers often like include Le Casablanca Hotel , near Boulevard d'Anfa (expensive), the Movenpick, a 5-star hotel in the city center, and the Lido Thalasso & Spa, a 4-star beachfront hotel with a nightclub.
Marrakech also has a plethora of upscale boutique hotels, riads in the Medina, larger B&Bs, hotels and apartments around the center, and resort-style international hotels in the posh Palmeraie area.
Staying in a riad (traditional house) in the Medina gives you a true taste of Marrakech and allows you to walk to the souks, main square, and many restaurants and pubs in the area. There are riads of all kinds, from small local places to luxury European-run B&Bs.
Travelers often recommend the Riu Tikida Palmeraie resort, a nice break from the center hustle and bustle and a relatively short taxi ride from the center. The Riu Tikida Garden, an all-inclusive slightly closer to the center, is also well-rated. Medina Gardens is an often-mentioned Thomson Couples hotel, great for a romantic break.
Casablanca or Marrakech: day trips
From Marrakech, you can go on a camel trek and sleep in the sand dunes, e.g. 2 nights in Erg Chebbi, 1 night in Ouarzazate or Tineghir, 1 night in Errachidia. If you're short on time, an alternative is the Agafa Desert, which is closer and has more vegetation and wildlife than the sand desert.
Marrakech also gives you easy access to the Ourika Valley, an entry point to the Atlas Mountains, with scenic mountain villages and waterfalls. In the winter, you can even go skiing.
Alternatively, you can take a trip to Essaouira, a coastal town (about a 3-hour bus ride) full of character and history with a beautiful seafront, a quality beach, and a lively and friendly old medina. See my other post about Essaouira vs Agadir.
From Casablanca, you can take a day trip to Azemmour and El Jadida, too ancient fortified cities on the Atlantic coast. Azemmour is a small town with a scenic and authentic medina overlooking the Oum Errabia river.
El Jadida is larger, an old Portuguese city (Mazagan) with a beautiful beachfront and small fishing harbor, great seafood, and a nice old town with an ancient Portuguese cistern you can visit.
North of Casablanca, all along the Rabat highway, you can take day trips to many beach resorts, including some wealthy beach areas such as Bouznika and Skhirat where wealthy Moroccans spend their summers.

***
Photo credits:
(1) Featured: "Casablanca" (CC BY-SA 2.0) by gripso_banana_prune
(2) "2017-10-honeymoon-70" (CC BY-SA 2.0) by ImNotQuiteJack
(3) "Casablanca Tram – Casa Voyageurs Station" (CC BY-SA 2.0) by andynash
(4) "Marrakesh_03_060" (CC BY-SA 2.0) by Lee Kyung-joon
(5) "Medina of Marrakesh" (CC BY 2.0) by D-Stanley
(6) "Palais el-Badi" (CC BY 2.0) by D-Stanley
(7) "Marrakesh" (CC BY 2.0) by jodastephen
(8) Hassan II mosque
(9) "Casablanca Art Deco" (CC BY-SA 2.0) by colros
(10) Casablanca Courthouse – courtesy of casamemoire.org
(11) Casablanca Corniche seafront
(12) "Rick's Cafe" (CC BY 2.0) by cdschock
(13) "Shopping in Marrakech" (CC BY-SA 2.0) by Nouhailler
(14) "Marrakech, Morocco" (CC BY 2.0) by Kyle Taylor, Dream It. Do It.
(15) "Road to Marrakech" (CC BY 2.0) by 16:9clue