People traveling through Belgium often wonder whether to choose Brussels or Bruges as a base for a 2 or 3-day break. Which of these two cities is a better choice?
Brussels and Bruges are very different options. Brussels is a large capital (2M souls) home to the EU and NATO, a cosmopolitan city with a grand square and great museums. Bruges is a small, fairytale-like medieval town with picturesque canals and architecture, and is extremely touristy. Traveling between the two is fast and easy by train.
While Bruges is a relaxing tourist town pleasant to visit on foot during a short stay, Brussels is an interesting city with a lot to see including mixed cultures, diverse and attractive architecture, good food and nightlife options.
Brussels or Bruges: what travelers say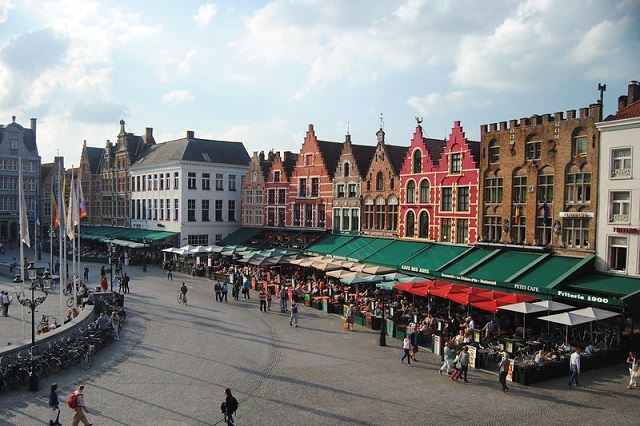 Most travelers choose Bruges over Brussels because it's a small, quaint (some say dreamlike) medieval town filled with canals similar to Amsterdam. It's the jewel of Belgian tourism, and a movie has made the town famous. The historic area is like a journey in the past.
On the negative side, Bruges can be seen as an overcrowded tourist trap, in that respect, and for the canals, similar to Venice.
While Bruges is a sleepy medieval time frozen in time, Brussels is a big modern vibrant city with a broad range of cultural activities. Travelers like the Grand Place, the Art Nouveau buildings, the parks, and the museums.
Bruges is very walkable and can be mostly visited on foot in a full day or 2 half days. Brussel's city center is also fairly compact and great for walking around. It has more to see and travelers recommend spending at least 3 nights.
Brussels is often described as being less attractive than Bruges, Ghent, and Antwerp, the other Big Four Belgian cities. However, the city is an interesting mix of French and Flemish cultures and has its own charm and interest.
Bruges offers a pleasant tourist experience with many historic buildings and churches, canals, and cafes, all within walking distance. Unlike bigger cities, It's a relaxing place to visit even though it's overrun by tourists.
Bruges' architectural style is attractive but is mostly 17th-century brickwork, whereas Brussels is much more diverse and interesting However, some parts of Brussels are quite unsightly, even seedy.
Brussels or Bruges: access & transportation
Brussels is on the route between Paris and Amsterdam. It takes 3h 20 min from Amsterdam to Paris by Thalys high-speed train takes, and a 1h 50 min trip from Amsterdam to the Bruxelles-Midi train station.
From Bruxelles-Midi, you can catch another train to the Bruxelles-Central station at no extra cost to get close to the city center. In Belgium, trains are frequent and inexpensive, and without reservations.
From Paris, getting to Bruges takes under 2.5 hours, again taking the high-speed train to Brussels, then a local train to Bruges (1-hour ride, no extra cost from Brussels).
Brussels and Bruges are only 60 miles apart, about one hour by train and 1h 20 min driving. Many travelers use this option to day-trip from one Bruges to Brussels or vice versa. Discounted round-trip fares can generally be found on weekends.
Brussels or Bruges: vibe & people
Many foreign travelers, particularly U.S visitors, favor Bruges over Brussels since it incarnates traditional European quaintness with the cobblestoned streets, the medieval buildings, and the canals. It's also very representative of the Flemish bourgeoisie.
On the flip side, Bruges is often described as a Shrek-like decor with constant hordes of tourists. People line up for the canal boat rides and guided tours, mini-buses come and go all day, and overcrowded cafés offer expensive beverages with often rude waiters
Bruges is generally visited on foot and through canal boat rides. Some travelers also take bicycle, segway, or horse carriage tours. Besides the medieval architecture, visitors enjoy the windmills, the swans on the Minnewater Lake, and the many chocolate shops.
Travelers recommend spending a night in Bruges as most day-trippers and tour buses leave in the late afternoon. Visitors who stay overnight then have the town to themselves and can enjoy its antique charm in a quiet atmosphere.
During the day, most tourists arrive by bus/train from 't Zand and stick around the central market, the Burg, and the Beguinage. Away from that bustling area, however, you can have a surprisingly quiet experience – e.g. the walking paths on the old ramparts or the windmills in the North area.
Brussels also has its charm, being a cosmopolitan city with a provincial size. However, it takes more effort to appreciate, as it has a mix of gorgeous and not-so-nice areas (including those around the Nord and Midi train stations).
Visitors like the Grand Place and Place Sainte-Catherine, the posh Sablon and Uccle neighborhoods, the cool Marolles district, the nice parts of Anderlecht, the small narrow streets of Lower Town (full of tourists), and the large boulevards of Upper Town.
Brussels is home to many expat workers including white collars from the Belgian government, the European Union, and NATO. This gives the city a special international vibe.
Brussels or Bruges: sights & culture
Brussels' first attraction for visitors is no doubt the Grand Place, the city's main square and for most travelers a unique place in Europe. Walking down Koningsstraat, the Royal Palace and Park are also worth a visit.
The huge Palace of Justice deserves a look inside. Outside the Palace, a glass elevator takes you to the Marolles district with its unique atmosphere, small stores, and nice Sunday market.
Outside the town center, interesting areas include the Place Flagey with its unique architecture, the African district at Porte Namurm, the posh Sablon neighborhood with its authentic vibe, and the Brussels Park and Parc du Cinquantenaire for some urban nature lounging.
You can catch a hop-on, hop-off tourist bus across the street from the central train station to see multiple sights with a single bus ticket.
Brussels also has some great museums. The Brussels Art museum is very large and comparable to other great European museums. Visitors are generally impressed by The Magritte Museum and Horta Museum.
The Musical Instruments Museum is also unique with over 7000 music instruments. The Royal Museum of Central Africa revolves around the history of Belgium with Congo. The Comics Museum is hosted in a beautiful Art Nouveau building. The Ancien Art Museum and the Bozar Museum are also worth a visit.
The Atomium is a renowned landmark building from the 50s and a futuristic cultural center outside the city. Mini-Europe is a small park with miniature buildings from all over Europe.
Brussels is also known for it many unique murals around the city. It also has many Art Nouveau buildings scattered all over the city, which can be visited (including private buildings) via a tour offered by ARAU.
In Bruges, the sights are much closer to each other. The town offers a great decor with beautiful buildings unique in Belgium. It's surrounded on three sides by canals.
Visitors walk around the town, starting from the center square, up the belfry tower, across the bridges over canals and along the Minnewater lake, and into the historic buildings. Bruges' main sights include:
The 13th-15th century Church of Our Lady with its Michelangelo sculpture
The Burg center square and 14th century Stadhuis town hall with its beautiful carved ceilings
The 15th-century Jeruzalemkerk Church with its macabre decorations
The 12th-century Roman Catholic Basilica of the Holy Blood.
The Beguinage Ten Wijngaarde convent, a UNESCO site
The 12th-century Sint-Janshospitaal medieval hospital, now a museum
The Gothic Saint-Salvator Cathedral of Bruges
Several medieval city gates and windmills
Bruges also has its share of museums, although smaller than Brussels', such as the Groeninge Museum of Art and the merchants house (Gruuthuis). Other popular attractions include the Lace Center and the chocolate museum and stores.
Travelers frequently book a horse carriage or bike ride around the city and through the Rozenhoedkaai quay.
Brussels or Bruges: food & nightlife
Brussels, being a much larger city than Bruges, has a broader choice of restaurants, bars, and pubs. The Zael (aka Sablon) area is a lively neighborhood with many chic bars, trendy restaurants, and chocolate shops. Patisseries Witamer is a reputable pastry shop there.
Place Saint-Gery is another great area for going out in Brussels with many bars and restaurants open late at night. The Rue des Bouchers area also has lots of options (although more of a tourist trap) such as the Delirium bar and others offering a wide range of Belgian beers.
There are numerous bars and pubs around the Grand Palace offering happy hours, open-air cocktail parties, and live music on workdays, catering to the UN, NATO, and overall business workers.
Brussels is also famous for its Belgian fries and waffles, served in numerous fast-food places. It also offers some of the best chocolate in the world, found in a wide range of high-end chocolate stores. The "moules-frites" (mussels & fries) dish is also a Belgian/Brussels specialty.
Bruges is famous for its numerous chocolate shops, such as the reputable Chocolateir Dumon said to make the best chocolate. The Chocolate Museum attracts a lot of visitors.
Beer is the other main gastronomical attraction. Historic breweries such as the Zot Brewery and Half-Moon Brewery offer tours with raw beer tasting. Waffle places also attract a lot of visitors, namely those around the Markt.
Having lunch in Bruges requires making early reservations due to the huge number of tourists.
In the evening, though, Bruges gets very quiet after the daytrippers leave, so nightlife is limited. Le Trappiste and Poatersgat are popular bars that stay open until 1 am and later on Sundays. The Garden of De Republiek Café is a recommended place for cocktails at night.
Brussels or Bruges: lodging
In Bruges, travelers frequently recommend B&B Côté Canal (Huyze Hertsberge) located right on the canal close to the Old Town. Another recommended B&B is Hotel Boterhuis, a short walk to the central market square, and with many restaurants and shops around in the area.
Travelers also praise the Novotel as being affordable, pleasant and clean, with the Bittersweet restaurant next to it. The Ibis Hotel across the street from the Novotel is also a good option with a good location.
Visitors also frequently recommend the Duc de Bourgogne hotel.
Some travelers choose to stay in B&Bs, hotels, or self-catering apartments outside of town, in areas that are typically quieter and less touristy with good value for the money and easy access to the center by bus.
As a capital city, Brussels obviously has an ample choice of decent hotels and apartments for rent. The Grand Place close to the train station has several good and conveniently located hotels like the Novotel and Hotel Agora. Travelers also enjoy the Marriott Hotel Grand Place.
Some travelers suggest staying in Ghent which is situated right between Brussels and Bruges, making it easy, fast, and cheap to visit the two cities by train. Ghent is also an attractive city with fewer tourists than Bruges. See my other post for more about Ghent.
Brussels or Bruges: day trips
Brussels is a convenient base for day trips around the country, from the coast to the Ardennes. There are many day trips one can take, including:
In the summer, take a short train ride to De Haan for the beach
Take a day trip to Antwerp (see this other post for more on Antwerp)
Take a train to Liège or Namur, to Lille in France, or to Maastricht (NL)
Go visit the richly decorated castle of Gaasbeek (Lennik) in the countryside
Take the train to Barvaux and Weris (old graves like in Brittany)
Visit the countryside, scenic towns like Grimbergen, parks, and forests
From Bruges, you can visit the beautiful Het Brugse Ommeland West Flanders region – great to bike around. Damme and Oostkerke and their surrounding countryside are examples of nice day trips.
You can also easily take a train to the coast (Oostende, Knokke, etc), visit Ghent, or take a trip the Netherlands. Around Bruges, there are several castles to visit – Tillegem, Loppem, 'D Aertrycke, WijnendaleRyckevelde and Van Male, and the Castle of Rumbeke.
Some travelers rent a bike near the Bruges train station and have a great time riding around and outside the old town on the multiple bike paths.
***
Photo credits:
(1) Featured: "Belgium-6478 – Grand Place" (CC BY-SA 2.0) by archer10 (Dennis)
(2) "Bruges" (CC BY-SA 2.0) by Ana _Rey
(2b) "Bruges" (CC BY 2.0) by Bernt Rostad
(3) "Brussels" (CC BY 2.0) by hsivonen
(4) "Brussels" (CC BY 2.0) by George M. Groutas
(5) "Bruges" (CC BY 2.0) by ilovebutter
(6) "2007_04_26_brussels_02.JPG" (CC BY-SA 2.0) by dsearls
(7) "Bruges" (CC BY 2.0) by Dimitris Graffin
(8) "Brussels" (CC BY 2.0) by Maria Firsova
(9) "Bruges" (CC BY-SA 2.0) by williamsdb